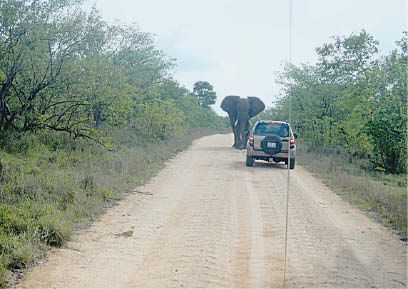 Aside from the busy streets of Cape Town and the hustle and bustle of Johannesburg, South Africa has a different face to show to adventure lovers and safari buffs. Up north near Nelspruit, on the border with Mozambique, lies Kruger National Park and Sabi Sand Game Reserve, nature's gift to humanity.
The scenery in this heavenly part of earth is breathtaking. Hundreds of acres of manmade forests and Jacaranda trees, with their vibrant lilac flowers, decorate the roads. A 100-square-kilometers home for all types of grazers, predators, birds, and reptiles, Sabi Sand offers a less restrictive environment for thrill lovers than Kruger. Uncovered cars are allowed entry, and vehicles are not restricted to the roads and can venture into the bush, unlike Kruger, which has more restrictive rules.
Both parks have a wide range of affordable camps and luxury lodges, such as Imbali Safari Lodge in Kruger, Rhino Post, Hamilton Tented Camp, Jock Safari Lodge, and the very touristy Kruger Camp Lodge. As for Sabi, visitors can stay at Sabi Sabi, Elephant Plains Lodge, Tydon Tented Camp, Nottens Bush Reserve, Leadwood Lodge, and Savanna Game Lodge. A night might cost up to 18,000 rand (LE6,000).
In both reserves, the day starts around 5 am with a morning safari that takes three to four hours. At that time of day, grazers like impalas, kudus, bushbucks and waterbucks are in plain view. On a lucky day, you may stumble upon a herd of cats wandering around looking for breakfast. Giraffes, monkeys and baboons can be easily spotted during the wee hours of the morning.
Elephants are at ease and fairly mobile, especially on the main roads. Although rarely violent, males can be quite destructive when in must, the mating period. During an elephant charge, one must look at the ears. If they are flapping outwards, there's no need to worry; just stand still until the animal walks away. But, if the ears are pressed against the animal's head, the behavior is certainly aggressive, and one must flee immediately.
Cats are different, and rarely attack vehicles. "For a cat, the passengers are part of the vehicle and the car is not food," says Lyam, a ranger at Tydon Camp. However, at all times passengers should remain seated inside the vehicle.
"A standing passenger will be automatically read by the animal as a threat and the possibility of an attack may rise," adds the 26-year-old ranger.
The second safari of the day starts at 4 pm and ends around 7 pm. The night drive gives the passengers the chance to see nocturnal animals such as wild rabbits, impalas, giraffes, and possibly leopards, although the big cats are elusive and rarely spotted in the open. Hyenas are more active at night and are usually spotted wandering alone, looking for food. Many lodges and camps arrange "sundowners" for their guests, a small picnic with drinks for guests to enjoy during sunset.
Many tourists opt for a bush walk. The bush walk is a chance to get closer to the animals but — of course — the risk is greater, and an armed ranger accompanies walkers at all times. These are usually arranged in advance and take place early in the morning.
Camping is also an activity of choice for safari-goers. At Kruger, camping is available throughout the park, and campers can hike around freely to get a better feel of the wildlife. But, these camping trips are usually fully booked at least a couple of years ahead.
For those staying in South African lodges and camps, dinner is served around 8 pm. South African food is superb, and the meat is juicy, tender and flavorful. Bobotie is a national dish, and includes meat, vegetables and nuts. South African stew is usually consumed at the end of the week and contains chopped meat, zucchini, carrot, potatoes and sweet potato. The dish takes about three hours to cook, and is usually prepared by the man of the house. Chutney and garlic bread are famous South African side dishes.
All camp and lodge residents are advised to walk around with flashlights after sunset, as scorpions may be on the loose. Flip-flops are not advised.
This piece was originally published in Egypt Independent's weekly print edition.