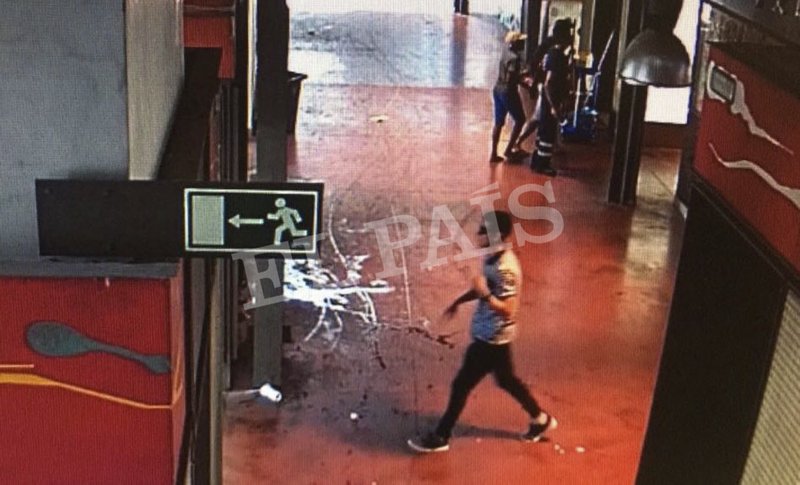 The fugitive who mowed down tourists in Barcelona then stole a car and stabbed its owner to death as he made his getaway, Spanish authorities said Monday as they raised the death toll in the country's two vehicle attacks to 15.
Younes Abouyaaqoub, 22, has been the target of an international manhunt since Thursday's van attack in Barcelona. Authorities say they now have evidence he drove the van that plowed down the city's famed Las Ramblas promenade, killing 13 pedestrians and injuring more than 120 others.
Another vehicle attack early Friday by other members of his extremist cell killed one person and wounded several others in the coastal town of Cambrils. That ended in a shootout with police, who killed five attackers.
The Islamic State group has claimed responsibility for both attacks.
Abouyaaqoub is believed to have made his getaway in the stolen car with the body of its dead owner, Pau Perez, still inside.
Police have "scientific evidence" showing Abouyaaqoub drove the speeding van in Las Ramblas and also killed Perez on Thursday night, regional police chief Josep Lluis Trapero said Monday. He said the suspect walked through Barcelona for about 90 minutes after the van attack — through the famed La Boqueria market and nearly to Barcelona University — before hijacking the car.
Perez was parking his car, a Ford Focus, in a lot between 6:10 p.m. and 6:20 p.m. Abouyaaqoub stabbed him before 6:32 p.m., put him in the car's rear seats and drove away, Trapero said.
Trapero said Perez was already dead when Abouyaaqoub then rammed the car through a police checkpoint minutes later and police opened fire on his car.
The suspect ran over a police officer as the car evaded the checkpoint. About 7 p.m., police found the car and Perez's body 3 kilometers (nearly 2 miles) away from the checkpoint, near Sant Just Desvern, a town west of Barcelona, but Abouyaaqoub was nowhere to be found.
The Spanish newspaper El Pais published images Monday of what it says is Abouyaaqoub making a getaway on foot after the van attack. The three images show a slim man wearing sunglasses walking through the La Boqueria market.
Abouyaaqoub escaped and has not returned to his home in Ripoll, said Trapero. The manhunt for him reaches well beyond Spain's borders. Four other suspects have been arrested.
Regional authorities said Monday that 50 people are still hospitalized from both attacks, nine of them in critical condition.
Abouyaaqoub was believed to be the lone attacker on the run by Sunday, but authorities hadn't confirmed his identity because they were having difficulty identifying the remains of at least two extremists who died Wednesday in an explosion at a house in Alcanar where explosives were being prepared. The explosion destroyed the house, but police found remnants of over 100 butane gas tanks and materials needed for the TATP explosive, which has been used previously by Islamic State militants.
Those discoveries, and reports that Abouyaaqoub had rented three vans, suggested the militant cell was making plans for an even more massive attack on the city.
Catalonia's regional president, meanwhile, said regional and local authorities rejected the Spanish government's suggestion to place traffic barriers to protect the Las Ramblas promenade because they deemed them "inefficient."
Carles Puigdemont told La Sexta television the barriers wouldn't have prevented vehicles from entering the promenade at other points — and he said closing off Las Ramblas was impractical because emergency vehicles still needed access.
On Monday, mourners were still weeping and hugging each other as they visited the main memorial site of the Barcelona attack. Crowds of people continued to lay flowers, candles and heart-shaped balloons at the top of Las Ramblas and at other smaller tributes where the van created such carnage.
Las Ramblas regained some normality Monday, with throngs of people walking up and down, tourists arriving and residents going about their daily business.
"We have to stand strong in front of these betrayers, assassins, terrorists," said resident Monserrat Mora. "Because Barcelona is strong and they will not be able to prevail with us."