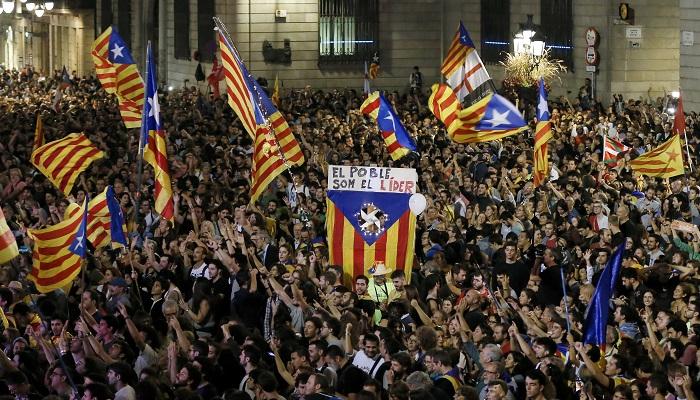 Spain's Prime Minister Mariano Rajoy plans to maintain central government control over Catalonia after the regional leader nominated imprisoned and exiled politicians to join his cabinet, El Pais said on Sunday.
Catalonia's new leader Quim Torra named his cabinet on Saturday, although the inclusion of politicians who are either in jail awaiting trial or in self-imposed exile for their part in its independence drive was denounced as provocation by the Madrid government.
Pro-independence parties won a slim majority in Catalonia in an election in December but have since failed to form a government that includes candidates eligible to serve.
Rajoy has said that, once a full and legal government was running in Catalonia, he would return direct rule to the region.
However, Torra's cabinet choices of Jordi Turull and Josep Rull, who are both on remand, and Antoni Comin and Lluis Puig i Gordi, now in Brussels and also wanted by the Spanish police, threatens to keep the region in political limbo.
In a statement on Saturday, the government said it would have to analyze the viability of the new Catalan government, which must be ratified by Madrid before it can take power, given the legal status of some of the proposed candidates.
Spain's constitution prohibits any separation of regions from the rest of the country and many Catalan politicians and civic leaders involved in the secession attempt are now either facing court proceedings in jail or on bail, or are in self-imposed exile.
Charges include rebellion, disobedience and misappropriation of public funds.
Rajoy spoke to opposition Socialist leader Pedro Sanchez and Ciudadanos leader Albert Rivera about the Catalonia situation on Saturday, his press office confirmed on Sunday.
The Socialists would support any decision by the government to block the formation of a Catalan cabinet which included members in prison or in exile, Sanchez said in an interview with newspaper La Razon published on Sunday.
"Besides being a provocation, which it is, its a move to undermine the institution of the (Catalan government) perpetrated by its own president … I agree with the government; until there's a Catalan government, 155 will continue to be applied," Sanchez said.
Madrid took over Catalonia's government in October via article 155 of the constitution after the then-leader Carles Puigdemont, currently in Berlin awaiting a decision on his extradition to Spain, held a ballot on secession before unilaterally declaring the region's independence.