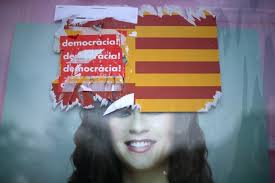 The Spanish government has secured opposition support to dissolve Catalonia's parliament and hold new elections there in January in an effort to defuse the regional government's push for independence.
The main opposition Socialists said on Friday they would back a package of extraordinary measures to impose central rule on the region, whose threat to break away has unsettled the euro and hurt confidence in the euro zone's fourth-largest economy.
Prime Minister Mariano Rajoy, who wanted the Socialists' support in order to present a united political front against the secessionist Catalan government, will hold a special cabinet meeting on Saturday to start to process of imposing direct rule.
It would be the first time in Spain's four decades of democracy that Madrid will have invoked the constitution to effectively sack a regional government and call new elections.
Rajoy wants as broad a consensus as possible before taking the step, which has raised the prospect of more large-scale protests in Catalonia, where pro-independence groups have been able to summon more than 1 million people onto the streets.
Catalan leader Carles Puigdemont, a former journalist who is spearheading the secession campaign, has refused to renounce independence, citing an overwhelming vote in favor of breaking away at a referendum on Oct.1.
The prolonged standoff has caused hundreds of companies to move their headquarters outside Catalonia and prompted the Spanish government to cut its economic growth forecast. The region accounts for a fifth of Spain's economy.
Socialist politician Carmen Calvo, a member of cross-party talks to establish what measures the government should take to impose direct rule on Catalonia, told TVE state television that January regional elections would form part of the package.
She gave no further details apart from saying the Socialists wanted a light-touch intervention.
The measures to impose direct rule could be approved by the Senate as soon as the end of next week, a spokeswoman for Spain's upper parliament said. Rajoy's People's Party (PP) has a majority in the Senate.
In a test of how the Catalan crisis has affected investor appetite for Spanish stocks, housebuilder Aedas is due to float on the Madrid stock exchange on Friday at 12 a.m. (10 GMT).
The Spanish blue-chip stock index [.IBEX] is trading 2 percent lower since the Catalonia regional government went ahead with its Oct. 1 referendum, which was declared unconstitutional by Madrid. National police used rubber bullets and batons in an effort to prevent many people from voting.