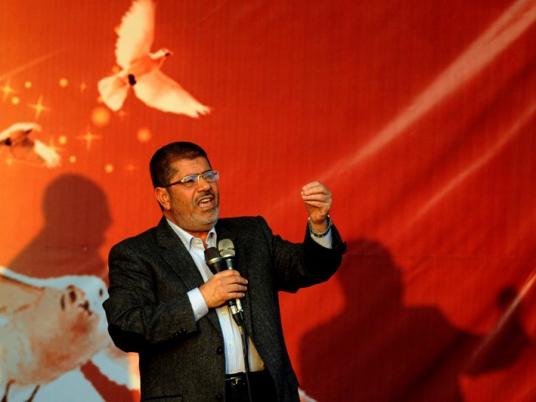 President Mohamed Morsy has offered all political groups an initiative to discuss how to secure the country in the next two weeks preceding a constitutional referendum vote, a presidential spokesperson said in a telephone interview with state TV on Sunday.
Spokesperson Yasser Ali said the transitional period would end in 13 days, after a referendum on the constitution is conducted. He said people should not fear the president misusing his power, and called on all political forces to preserve the overarching interests of the nation.
He noted that Morsy met with the Supreme Judicial Council and all heads of Egypt's judicial bodies three times over the past five months to reassure them of his respect for the judiciary.
Vice President Mahmoud Mekky explained that the judiciary's concerns were the result of confusion or misunderstanding some provisions contained in the 22 November constitutional declaration, which the judges felt were directly aimed at them, Ali said.
"The president told them [the provisions] were not addressed to them," Ali said, adding, "[Morsy] was arrested in 2006 for seven months because he supported the independent judiciary movement."


"If people approve the new constitution, all other constitutional declarations since 19 March will be void," he added.
Edited translation from MENA