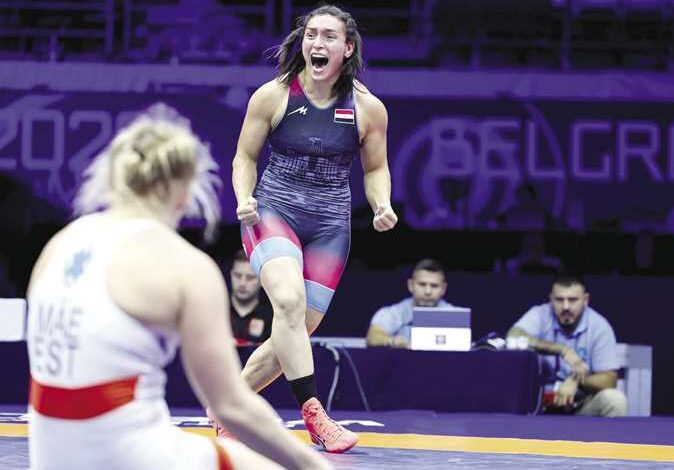 Egypt's wrestling national team player Samar Hamza has topped world rankings, according to the International Wrestling Federation.
Hamza took first place in the 76 kg weight category at the women's competition, scoring 77,800 ahead of Japan's Yuka Kagami, who came in second place with a total of 76,000 points, and Kyrgyzstan's Medet Kyzy who came third place with 72,600 points.
Minister of Youth and Sports, Ashraf Sobhi, extended his sincere congratulations to the Egyptian champion Samar Hamza, the freestyle wrestler, for continuing to lead the world rankings for women's wrestling.
He affirmed his pride in Hamza's sporting achievements, calling her an honorable example of women's sports and a source of inspiration for other athletes. He praised the dedication and hard work she made to achieve success and represent Egypt globally.
The minister hailed the Egyptian Championship's historic achievement, continuing to break records with Hamza ascending to the international wrestling rankings.
Sobhi assured that Hamza and other Egyptian athletes will receive the necessary support and capabilities to make more achievements and continue representing their country internationally.
And he expressed his wishes for Hamza to continue her path of excellence, stressing the importance of supporting Egypt's sports scene and its rising stars in order to build a strong generation that can compete and achieve.