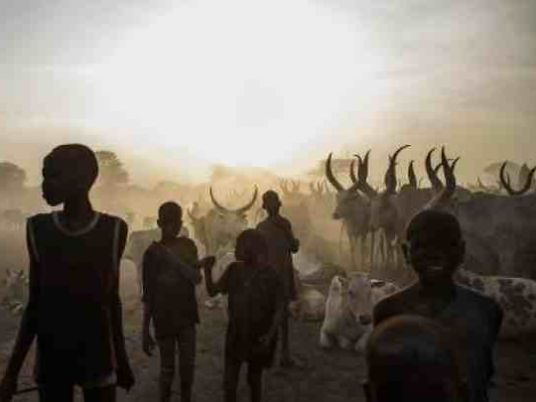 War in South Sudan is worsening with "extreme violence" and growing hunger, rights groups warned Monday, one year on since the start of conflict in which tens of thousands have died.
Campaigners say South Sudan is locked into conflict, with the bloodshed that erupted in Juba exactly a year ago having set off a cycle of retaliatory massacres across large swathes of the country.
"Twelve months on from the outbreak of this war, it is hard to fathom that worse could be yet to come," South Sudanese peace activist and priest James Ninrew said.
Fighting broke out in South Sudan, the world's youngest nation, when President Salva Kiir accused his sacked deputy Riek Machar of attempting a coup.
Memorial services and candlelit vigils will be held later Monday in Juba, as well as in neighbouring nations into which hundreds of thousands of South Sudanese have fled.
South Sudanese civil society groups, shut out of peace talks between top leaders, have been collecting lists of names of the dead which will be read out on Monday by radio stations.
"Reading the names… is one way we can remember and honour the thousands of innocent men, women and children who should still be alive," said project organiser Anyieth D?Awol.
The International Crisis Group estimates that at least 50,000 people have been killed, while some diplomats suggest it could even be double that figure.
Rights groups said the situation now was worse than at the end of the two-decade long civil war that paved the way for independence in 2011, when billions of foreign aid dollars were spent to help rebuild.
– Staggering violence –
"We're in an even darker place than before independence, it will take decades for South Sudan to recover and heal," said Edmund Yakani, from the Juba-based Community Empowerment for Progress Organization.
Few are optimistic of peace any time soon.
"If the fighting doesn't kill our children, there's a real risk that the food crisis will," said Both Reath Luang, a priest from the Nuer Peace Council. "Famine will tip us over the edge. We cannot endure another year of war, bloodshed and hunger."
The United Nations say they averted famine so far through vastly expensive air drops of food aid, but with no sign of an end to war and the long dry season still continuing, a real threat remains.
"We will be in a battle against time and a battle against famine once again in early 2015," said Toby Lanzer, the UN aid chief in South Sudan. "The situation remains grave today. It could very well get much, much worse."
Warring sides have broken a string of ceasefire deals, with Skye Wheeler from Human Rights Watch warning of a "total lack of political will" either to make peace or to hold forces to account following a string of atrocities including massacres and mass rapes.
"South Sudan has seen a lot of violence over the generations, but nothing on this scale or severity," said South Sudanese peace campaigner Lona James from the Voice for Change organisation, calling the levels of rape "truly shocking".
Oxfam country chief Zlatko Gegic said the situation "is on a knife-edge" and warning that many fear increased fighting in coming months during the dry season, a time in recent years when heavily armed gunmen from rival tribes have launched deadly cattle raids against each other.
Half the country's 12 million people need aid, the UN says, including nearly two million people who fled their homes from the fighting.
– Child soldiers –
"Divided by the political failures, the ongoing conflict and the uncertainty of peace, the people of South Sudan face a huge task to repair deep and dangerous rifts between them," said a joint statement by Amnesty International, the International Rescue Committee, Oxfam and Save the Children.
They described the devastation in the country where "entire towns have been pillaged" and thousands killed in "gruesome massacres, or shot in their homes, in hospitals or churches, trying to hide or flee."
An army of 12,000 child soldiers has been forcibly recruited, the UN children's agency said, adding that "the scale of the crisis in the world's youngest country is staggering."
International attention has "turned away from South Sudan in recent months, but needs remain enormous, and the situation is still serious a year after the crisis began," said Franz Rauchenstein, head of the delegation of the International Committee of the Red Cross (ICRC).