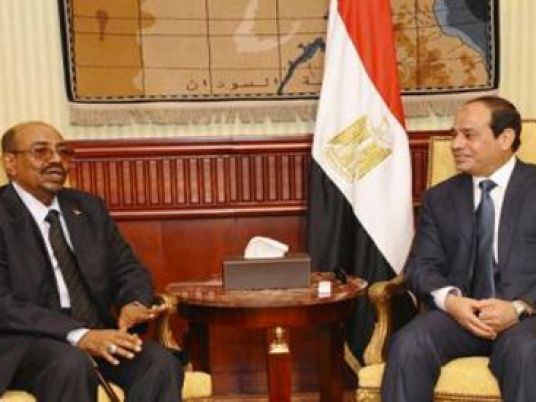 After a period of political tension and accusations flung back and forth between the two Nile countries, Sudanese Foreign Affairs Minister Ibrahim Gandor arrived in Cairo on Saturday for official visit in the hopes of solving the current disputes.
Gandor received an official invitation from his Egyptian counterpart Sameh Shokry who held a press conference to explain the results of the visit.
This visit comes following a week of accusations from Sudanese President Omar Al-Bashir against the Egyptian government. He charged Egypt with providing military support to insurgents and rebels located in Darfur, a region in western Sudan.
Bashir's statements have caused outrage at home and many local media outlets launched counter attacks against the Sudanese government. Egyptian President Abdel Fattah al-Sisi denied these charges.
"Egypt does not follow such dishonest policies; we are operating an honest policy in an era when such policies are absent," Sisi said about Bashir's statements.
In the press conference held in Cairo, the Sudanese minister refused to retreat from Bashir's accusations that Egypt supports rebels and the opposition in Sudan. Gandor said he met with Sisi and presented him with Sudan's evidence for these charges.
He also noted that Egypt-Sudan relations are "holy" and any tensions between the two countries have been discussed in the hopes of eliminating them.
Shoukry said Egypt respects the sovereignty of Sudan and will work hard to enhance bilateral relations.
"Sudan and Egypt are one nation, Gandor's recent visit will help in easing tensions; however, Sudan should stop hosting members from the outlawed Muslim Brotherhood terrorist group," head of the Parliament's African Affairs Committee Moustafa al-Gendy told Egypt Independent on Sunday.
He stressed that both governments should follow honest discussions to avoid any outside attempt to cause strife between the two nations, noting that both countries were one state in the past.
Gendy said Bashir's accusations are unreasonable without evidence, adding that Sudan should declare the Brotherhood as a terrorist group and no longer host them.
"No clear evidence has been provided for any Egyptian military support to insurgents in Darfur. Where are the Egyptian officers who allegedly provided armored vehicles to the Sudanese insurgents there?" he said.
Similarly, Amany al-Tawil, head of the African Program at Al-Ahram Center told Egypt Independent on Sunday that the absence of evidence renders Bashir's charges as "illogical".
"I expect that Gandor's recent visit will effectively contribute to ending any tensions between both countries and, through mutual understanding, obstacles will be eliminated," she explained.
Contrary to Gendy's statements, Tawil said there is no clear evidence that Sudan is hosting Brotherhood affiliates, despite rumors on the part of the media.
The Sudanese government has taken several measures against Egypt in the wake of these accusations. Khartoum banned agricultural imports from Egypt and imposed harsher entry visa restrictions on Egypt men, though Gandor said this was not due to political tensions but rather to keep any terrorists from entering the country.
Several Egyptian media outlets allege that Sudan is hosting large numbers of fugitive Brotherhood members since the June 30 uprising that ousted former Islamist president Mohamed Morsi.
The media has said that Sudan's hospitality toward the Brotherhood is due to Egypt's refusal to engaged in discussions over the disputed Halayeb Triangle area.