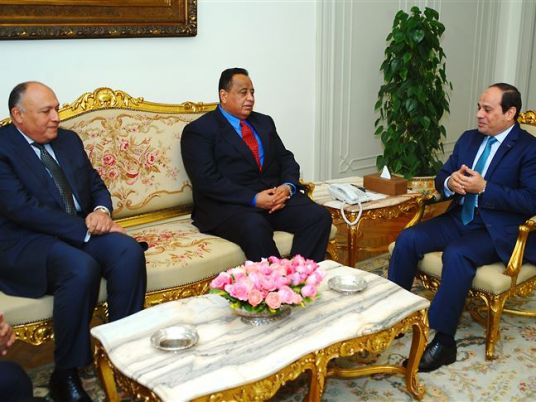 Sudan's ambassador to Egypt, Abdel Mahmoud Abdel Halim, revealed on Thursday that Sudan has various agreements to be implemented with Egypt and Saudi Arabia, pointing out that his country proposed to Egypt to establish a joint force to protect the border between the two countries.
The Sudanese ambassador's statements came during a press conference at the Sudanese embassy in Cairo. He added that the Egyptian side raised a number of issues with the Sudanese delegation during a quarterly meeting held between the foreign ministers and heads of the intelligence services of the two countries.
One of the issues was the Sudanese ban on importing vegetables and fruit from Egypt, while the Egyptian delegation also called on Sudan to suspend hosting any hostile figures to Egypt on its territory, according to Abdel Halim.
Abdel Halim stressed that Sudan does not harbor any hostile figures to Egypt, pointing out in this regard that Sudan presented to Cairo a list of figures that are opposing Sudan and are present in Egypt.
The Sudanese ambassador to Egypt returned to Egypt on March 6 to resume his duties, nearly two months after he was recalled for "consultations" by Sudan.
Abdel Halim left Cairo on January 5 after the Sudanese Foreign Ministry recalled him following news reports in Ethiopia claiming that Egypt was seeking to exclude Sudan from the tripartite negotiations over the impacts of the Grand Ethiopian Renaissance Dam (GERD) which is currently under construction.
Another source of tensions between Egypt and Sudan is the dispute over the Halayeb and Shalateen region. Sudan accuses Egypt of occupying the territory, while Egypt says it is rightfully under its sovereignty.
Sudan's Foreign Minister Ibrahim al-Ghandour has said that Egypt and Sudan agreed not to escalate the dispute regarding the Halayeb and Shalateen area, instead leaving the matter to the presidents of the two countries.
In a recent statement, Ghandour described Sudanese-Egyptian relations as historic and undeniable, saying that the two neighbors have at times suffered from ups and downs, but have never reached the level of a confrontation.