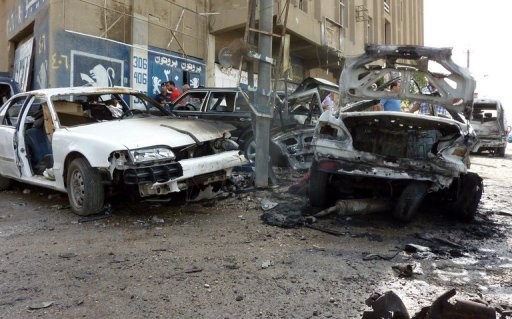 A suicide bomber detonated an explosives-rigged vehicle at a crowded checkpoint south of Baghdad on Sunday, killing 12 people and damaging dozens of cars, Iraqi police and a medical source said.
Iraq has been hit by a year-long surge in bloodshed that has reached levels not seen since 2008, driven principally by widespread discontent among its Sunni Arab minority and by the civil war in neighbouring Syria.
The checkpoint blast at the northern entrance to the city of Hilla also wounded 60 people.
"Some of the victims were burned inside their cars," a police officer said.
Militants carry out frequent attacks on security forces, and they also target areas where crowds of people gather. The checkpoint combined the two.
The blast followed two shootings at checkpoints north of Baghdad on Saturday that killed two secondary school students and three police.
Violence in Iraq has killed more than 120 people so far this month, and over than 1,850 since the beginning of the year, according to AFP figures based on security and medical sources.