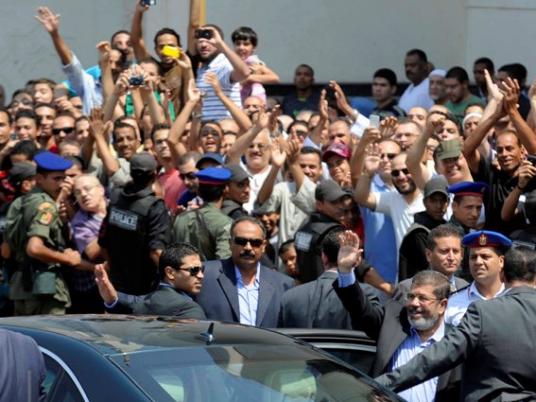 Readers will find it difficult to judge the performance of President Mohamed Morsy, as Sunday's newspapers seem to report on almost two different people. While state-owned and some party-affiliated newspapers mark Morsy's "historic" speech, other private newspapers see a poor performance by the Muslim Brotherhood-backed president in his first 100 days.
State-owned Al-Ahram quotes Morsy's promise in the speech with its big, bold-centered headline, "I will lead the people to a real renaissance," reminiscent of the way it reported on ousted President Hosni Mubarak's speeches. Describing Saturday's celebration of the 6th of October War's 39th anniversary, Al-Ahram says it was both official and public. Morsy addressed the nation in a two hour-long speech in Cairo Stadium under the slogan, "The people build and the army protects."
The mouthpiece of the Freedom and Justice Party surprisingly does not describe Morsy's speech as historic. Yet, the paper describes the celebration's crowd of attendees as "extremely large," including the "Ultras Brotherhood" who raised some slogans to express their happiness over a 39-year-old victory and promising liberation of the Gaza Strip soon.
The paper describes the celebration's atmosphere as being "family-oriented" as families from governorates all over the country flocked into the Cairo Stadium to celebrate the anniversary with the first democratically elected Egyptian president.
State-run Rose al-Youssef quotes Morsy in a brighter remark with a big red headline instead: "We kiss the heads of all of those who participated in October's War." The state-owned daily quotes Morsy's rejection of usury in reference to the IMF loan. Bank loans are rejected by Sharia due to its interest-based system, which is considered usury. The paper also highlights Morsy's references to what he called a "success" in his 100-day program, as he claimed to have solved 70 percent of security problems, 85 percent of energy shortages, 80 percent of the bread crisis, 40 percent of street cleanliness issues, and 60 percent of the traffic problem.
Other newspapers believe otherwise.
Under a headline that reads "Morsy in 100 days," the privately-owned Al-Tahrir newspaper tracks Morsy's performance with some shocking numbers. The paper, known to be highly critical of Morsy and the Brotherhood, says that Morsy has made 29 decisions, none of which are in favor of the poor.
The paper also counts what sites Morsy has visited nationally and internationally. He has visited, according to the paper, 12 mosques, eight Arab, African, and European countries, and only four Egyptian governorates. The paper continues the accounting of Morsy's activities: 51 speeches at a rate of one speech per two days, totaling in 30 hours of talk. The paper questions Morsy's tendency to address only American newspapers, and the fact that all his TV interviews were pre-recorded.
Unlike Freedom and Justice, Al-Tahrir reports that the atmosphere in Cairo Stadium prior to the celebration was Brotherhood-dominated. The paper alleges that Brotherhood youth were controlling the entrances and exits of the stadium and that police forces were only protecting the president. The paper also claims that the Brotherhood mobilized tens of thousands to attend the celebration, describing the process through which the attendees were escorted to the stadium.
In a headline questioning what the president did in 100 days, partisan Al-Wafd newspaper discusses issues that did not appear in Morsy's speech. The paper focuses on long term issues like education, poverty and health problems, and says that Morsy has failed to address them. The newspaper says the poor are selling their children and committing suicide due to extreme poverty amid alleged government austerity measures and subsidy cuts.
The paper also slams an alleged "Brotherhoodization of school curriculum," as well as limited educational opportunities and deteriorating school conditions. The paper describes the health sector as needing "intensive care," as more poor sick Egyptians are dying due to the lack of a proper health insurance system. The paper also says that 1.5 million minors labor in difficult working conditions, referring to a study conducted by the National Council of Motherhood and Childhood. The study also claims that 92 percent of Egyptian children suffer from stunted growth due to lack of proper nutrition.
Privately-owned newspaper Youm7 refers to a poll conducted by the New World Foundation for Development and Human Rights that shows 49 percent dissatisfaction with Morsy's performance during his first 100 days, while 34 percent of respondents said they were satisfied and almost 17 percent were undecided. Those unsatisfied criticized Morsy's inability to find quick solutions to society's urgent needs, as well as his failure to address the major issues mentioned in his 100-day program. Those satisfied said that security and traffic issues have improved. The poll was conducted on 300 citizens from different ages and occupations, with no further details on their socioeconomic backgrounds.
In a satirical op-ed in Al-Tahrir, activist Nawara Negm follows tradition and slams Morsy's performance in his first 100 days. Negm, heavily critical of the Brotherhood, says the people did not ask Morsy to create a program for the 100 days of his rule, but rather Morsy committed himself to fulfill promises to the people in the first days of his presidency. Negm reminds Morsy of an on-air promise he made to a woman named Wafaa, the mother of a martyr, saying that Wafaa and hundreds of martyrs' mothers are still waiting for justice to no avail. She also criticizes his failure to clean up streets as well as the police force's failure to deal with the traffic problem. She refers to continuing allegations of torture and human rights violations inside police stations, an echo of Mubarak-era practices.
Egypt's papers:
Al-Ahram: Daily, state-run, largest distribution in Egypt
Al-Akhbar: Daily, state-run, second to Al-Ahram in institutional size
Al-Gomhurriya: Daily, state-run
Rose al-Youssef: Daily, state-run
Al-Dostour: Daily, privately owned
Al-Shorouk: Daily, privately owned
Al-Watan: Daily, privately owned
Al-Wafd: Daily, published by the liberal Wafd Party
Youm7: Daily, privately owned
Al-Tahrir: Daily, privately owned
Freedom and Justice: Daily, published by the Muslim Brotherhood's Freedom and Justice
Party
Sawt al-Umma: Weekly, privately owned
Al-Arabi: Weekly, published by the Nasserist Party
Al-Nour: Official paper of the Salafi Nour Party