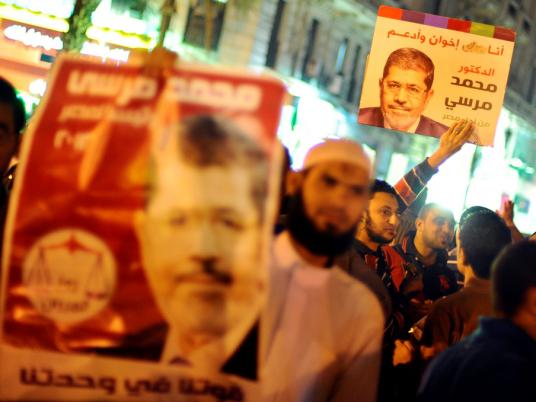 A recent survey conducted by the Baseera Public Opinion Research Center said that 63 percent of respondents were satisfied with the performance of President Mohamed Morsy, six months after he took office.
A month ago, 57 percent were satified, and 78 percent said they were satisfied after his first 100 days.


The state-run Middle East News Agency quoted Maged Othman, the director of the center, as saying that 40 percent approved of his performance and 23 percent approved strongly.
The survey was conducted on 26 and 27 December over the phone with 1,833 respondents who were 18 years old and above.


Othman also said that 19 percent disapproved of his performance, 9 percent disapproved categorically, and another 9 percent were unsure.


Half said they would reelect Morsy, 32 percent said they would not, and 18 percent said that it would depend on the other candidates.