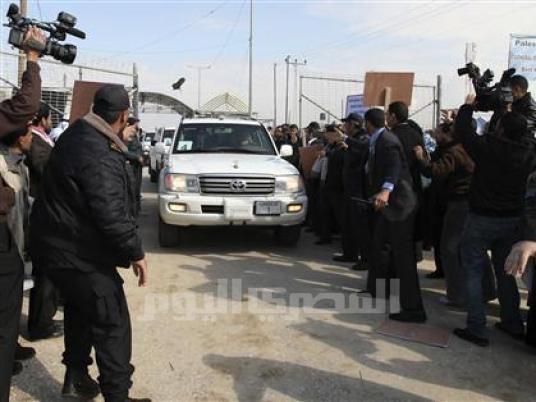 Syrian President Bashar al-Assad's forces launched a major offensive on Saturday against rebels in Homs, a centre of the two-year uprising, in their latest drive to secure an axis linking Damascus to the Mediterranean.
Activists said jets and mortars pounded rebel-held areas of the city which have been under siege by Assad's troops for a year, and soldiers fought battles with rebel fighters in several districts.
"Government forces are trying to storm (Homs) from all fronts," said an activist using the name Abu Mohammad.
There were no immediate details on casualties but video uploaded by activists showed heavy explosions and white clouds of smoke rising from what they said were rebel districts. Loud, concentrated rounds of gunfire could also be heard.
Syrian state media said the army was "achieving great progress" in Khalidiyah neighborhood.
The attack on Homs city follows steady military gains by Assad's forces, backed by Lebanese Hezbollah militants, in provincial Homs villages and towns close to the Lebanese border.
Three weeks ago Hezbollah spearheaded the recapture of the border town of Qusair, a former rebel bridgehead for guns and fighters smuggled into Syria, and last week secured another border town, Tel Kalakh.
Those gains have consolidated Assad's control over a corridor of territory which runs from the capital Damascus, through Homs, to the traditional heartland of his minority Alawite sect in the mountains overlooking the Mediterranean.
They have also alarmed international supporters of the rebels, leading the United States to announce it will step up military support. Saudi Arabia has accelerated deliveries of sophisticated weaponry, Gulf sources say.
DERAA VICTORY
The interventions by Sunni Muslim Saudi Arabia, a staunch backer of the mainly Sunni rebels, and Shi'ite Hezbollah highlight how the 27-month-old uprising has divided the Middle East along sectarian lines.
Gulf Arab States, Turkey and Egypt support the rebels while Shi'ite Iran and Hezbollah are actively helping Assad's military. Assad's family, which has dominated Syria for four decades, is from the Alawite minority, an offshoot of Shi'ite Islam.
More than 100,000 people have been killed in the civil war, which has driven 1.7 million refugees abroad and displaced another four million within Syria's borders.
Hopes of holding a U.S. and Russian-backed peace conference have faded, with rebels reluctant to negotiate while they are on the defensive militarily and tensions between Moscow and Washington exacerbating their deep differences over Syria.
Despite losing ground around Damascus and Homs, rebels registered a symbolic victory on Friday when they overran a major military checkpoint in Deraa, the southern city where the uprising first erupted.
Rami Abdulrahman, head of the Syrian Observatory for Human Rights, said the fall of the army post was strategically significant and could change the balance of power in Deraa, where rebels control most of the old city.
The province of Deraa, on the border with Jordan, has been a conduit for rebel arms supplies.