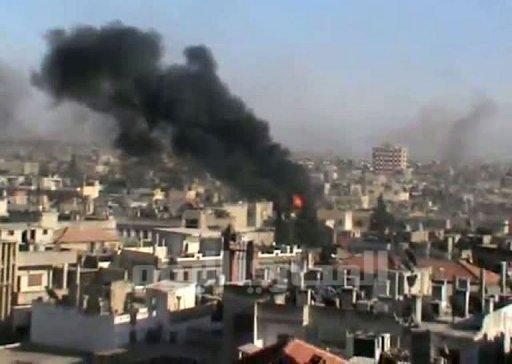 Syrian troops have tortured children, executed them and used children as young as eight as "human shields" during military raids against rebels, according to a UN report released Tuesday.
The United Nations branded the Syrian government as one of the worst offenders on its annual "list of shame" of conflict countries where children are killed, tortured and forced to fight.
Human rights groups estimate that about 1,200 children have died during the 15-month uprising against President Bashar al-Assad, whose brutal crackdown on Arab Spring-inspired protests has been widely condemned.
"Rarely, have I seen such brutality against children as in Syria, where girls and boys are detained, tortured, executed and used as human shields," Radhika Coomaraswamy, UN special representative for children in armed conflict, told AFP ahead of the report's release.
Government forces rounded up dozens of boys aged eight to 13 before an attack on the village of Ayn l'Arouz in Idlib province on 9 March, the report said.
The children were "used by soldiers and militia members as human shields, placing them in front of the windows of buses carrying military personnel into the raid on the village," it said.
Quoting witnesses, the UN report said Syrian military and intelligence forces, as well as pro-government Shabiha militiamen, surrounded the village for an attack that lasted more than four days.
Among the 11 dead on the first day were three boys aged 15 to 17. Another 34 people, including two boys aged 14 and 16 and a nine-year-old girl, were detained.
"Eventually, the village was reportedly left burned and four out of the 34 detainees were shot and burned, including the two boys aged 14 and 16 years," the Children in Armed Conflict report said.
UN chief Ban Ki-moon said the report had uncovered one of many "grave violations" against children.
The Syrian government, and its allied militias, was one of four new parties added to the UN's list of shame — along with organizations and political parties in Sudan and Yemen.
The list includes 52 parties in 11 countries, ranging from the Afghan national police and the anti-US Haqqani network to the Lord's Resistance Army in central Africa, Sudanese armed forces and various Darfur rebel groups.
The report said children in Syria as young as nine had been victims of killing and maiming, arbitrary arrest, detention, torture and ill-treatment, including sexual violence and use as human shields.
Schools have been regularly raided and used as military bases and detention centers, the report said.
The report was completed before the Houla massacre on 25 May, when 49 of the 108 victims were said to be children, some as young as two and three, who were shot in the head or had their skulls smashed with blunt instruments.
"Most child victims of torture described being beaten, blindfolded, subjected to stress positions, whipped with heavy electrical cables, scarred by cigarette burns and, in one recorded case, subjected to electrical shock to the genitals," said the UN report.
At least one witness told investigators he had seen a boy of approximately 15 succumb to repeated beatings.
The New York-based Human Rights Watch (HRW) said the UN Security Council should impose an arms embargo and other sanctions on the Assad government over its violations against children.
HRW quoted the Syria Violations Documentation Center, a network of Syrian activists, as saying that at least 1,176 children have been killed since February 2011.
It also said there were "credible allegations" that armed opposition groups, including the Free Syrian Army, are recruiting children as soldiers.