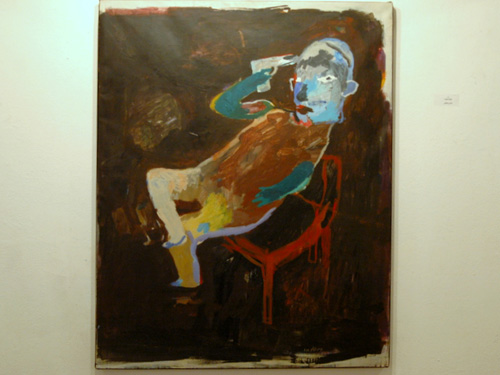 The latest exhibition at Mashrabia, "Artists From Today's Syria," opens with a painting by Syrian artist Yasser Safy of a man, drawn in deliberate, rough strokes, tilted back in his chair with a gun to his head. Jarring, disturbing and powerful, the image is an introduction that sets the tone for a collection of darkly themed works.
Countless Cairo exhibitions have put the iconography of revolution on display, with work often marked by patriotic splashes of red, black and white, and dominated by themes of triumph and renewal — a celebration of the ousting of Hosni Mubarak. This month, however, Mashrabia Gallery is featuring works by twelve Syrian artists, ranging in age from 30 to 70, all made over the past year, that show a different kind of revolutionary art. Free of flag waving and sloganeering, the paintings, drawings and collages at Mashrabia convey the weight of the immense suffering of the Syrian struggle.
The exhibition is timed to coincide with the anniversary of the beginning of the revolt against Bashar al-Assad's government on 15 March of last year, and has been put together by a group of artists involved in organizing activities to express solidarity with the revolutionary movement. It was organized quickly, only a few weeks ago, as the situation in Syria began to grow increasingly urgent.
Mounir al-Shaarany, a graphic artist who spent 25 years in exile before moving back to Syria in 2004, was the only exhibiting artist able to come to Cairo for the event. He accompanied the work from Damascus, where the majority of the artists live, and will bring it back with him when he returns at the end of the exhibition, retracing a treacherous journey through international customs that left some works damaged on the way into Cairo.
For Shaarany, part of the importance of the exhibition is in demonstrating to those both in and outside of Syria that these artists, many of whom are well-known, stand against the regime. Shaarany says, "[The government] does not want the world to know that there is this community against the regime."
While Shaarany has a history of being outspoken against the Syrian government and military, not everyone in the exhibition typically works from the position of dissident. "Some of us have long been interested in politics, and others are just starting now. But either way it is not just politics now, it is about the country," he says.
The exhibition as a whole is an open-ended political statement of support for the revolutionary movement in Syria. Most of the works are not overtly topical, but rather emotionally charged depictions of indiscriminate violence, pain and misery.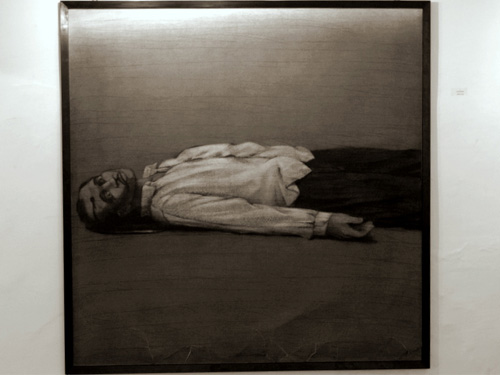 Two of the most graphically violent works are large charcoal drawings by celebrated artist Youssef Abdelke. One shows a man on the ground, a dark pool of blood spreading from his head. The dead man's wide open eyes stare blankly past the viewer, unarmed and vulnerable, as blood oozes from the hole in his forehead. Adjacent to this work is a less obvious but equally violent image of a large heart on a table with a knife standing menacingly next to it, a disturbingly quiet scene of human butchery.
30-year-old Heba Akkad is one of the youngest artists in the exhibition, and her bright, pop-y collages are easy to identify as the work of a different generation from most of the exhibiting artists. But although Akkad might employ a lighter palate than nearly anyone else in the exhibition, her works are nonetheless laced with hints of violence. Splashes of blood and bullets appear as small flashes in the larger tableau of the work.
Shaarany's pieces are the only works in "Voices of Syria" that directly address the movement for change from a political, rather than emotional perspective — but they are also strong statements against the violence and national rifts that have been instigated by the revolution. Shaarany trained in graphic design, and his work is typified by complex Arabic calligraphy, which he uses to construct puzzles and patterns out of text. One piece he has contributed to the exhibition contains the text "Yes to Democracy, No to killing, No to Lying, No to terrorism, No to siege…." Another is a complex web of the names of sects and religions, united around the word Syria, a statement for national unity and against sectarian conflict. The pieces are stylistically identical to his previous work, but while Shaarany typically chooses poetic, spiritual texts from the Bible or Quran for his pieces, these works have more urgent messages, reading almost as political posters.
The artists in this exhibition are teachers, students and colleagues who have long known each other and worked together, and who are now working on various efforts in artistic activism. One of their projects is a Facebook page, Art and Freedom, where new works of art are posted daily as a way of showing solidarity and making visible the fact that artists continue to work and respond to ongoing events.
Over the past year, discussions of the kind of work that might emerge from a revolution have been a ubiquitous element of both local and international conversations about the so-called Arab Spring. Moments of change are not necessarily the best moments for artistic reflection, but in many different ways, artists and artworks have been entwined in ongoing struggles in Egypt and elsewhere in the Middle East, as well as in Syria. The works in this exhibition are visceral and emotional pieces which make clear that the past year in Syria has been characterized overwhelmingly by violence and division. This collection does not contain any visions for the future, and it contains very little hope, but it is full of powerful testaments to the suffering the Syrian people have endured. Expressions of dissent can take many forms, and as Syrians have raised awareness for their cause by circulating images of brutality around the globe, these artists have done their best to react to the tragedy that surrounds them and to bring those reactions to the public.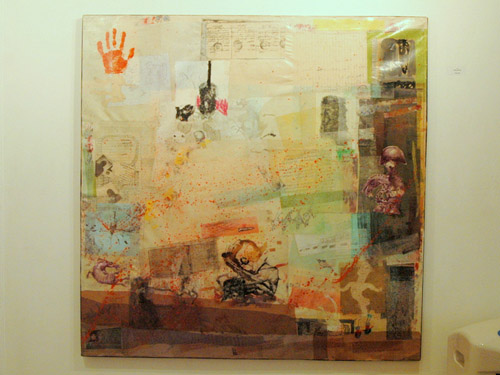 The exhibition will be on display until 29 March at Mashrabia Gallery, 8 Champollion St., Downtown, Cairo. Mashrabia is open Saturday to Thursday, from 11:00 am to 8:00 pm.