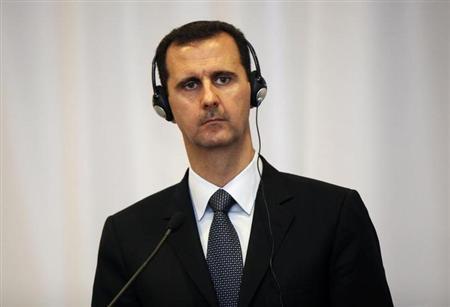 The Syrian government and the opposition met face to face on Tuesday and observed a minute of silence for people killed in the three year conflict after a first round of talks last month failed to make significant progress, delegates said.
"I hope that the minute of silence will signal an improvement in the atmosphere this time," opposition delegate Ahmed Jakal told Reuters.
He said that international mediator Lakhdar Brahimi proposed that the two sides discuss ending the violence on Tuesday and the formation of a transitional governing body on Wednesday.
The two issues have caused deep rifts between the warring parties and delayed negotiations.
Syrian state news agency SANA said the morning's joint session started with a minute's silence "for the souls of the martyrs of the village of Maan in rural Hama."
The authorities accused Sunni Muslim Islamist fighters of killing 42 people on Sunday in Maan, which is populated by members of President Bashar al-Assad's Alawite sect.
Monzer Akbik, a spokesman for the opposition National Coalition, said no civilians were killed in Maan.
"There was a battle over there between (the rebel) Free Syrian Army and Assad forces. The village itself was evacuated of civilians more than six months ago. All people in that battle … were killed in action. No civilians were killed in that battle."
He said that Tuesday's session was still focused on discussing what the schedule for the week should be and said the two sides were arguing over the length and number of meeting.
"We will not go on and on with the regime games. People are dying and the regime is asking for a limited number of sessions – one session every day and a shortened session," he said, adding that the opposition wants to increase the number and length of the daily sessions.
A main issue at the talks is the role of Assad in a transitional governing body. The government says it will not discuss his leaving power while the opposition wants no role for the man whose family has ruled Syria for more than four decades.
A deep split in the international community over the conflict has entrenched those positions.
In a clear bid to overcome that, Brahimi will meet U.S. and Russian officials on Friday.