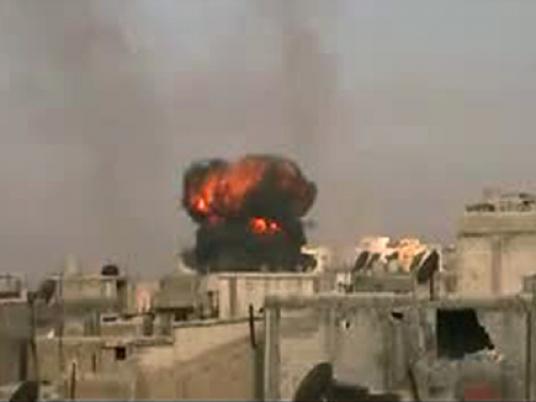 Syrian forces renewed their bombardment of parts of the shattered city of Homs and for a second day blocked Red Cross aid meant for civilians stranded without food and fuel in the former rebel stronghold, activists and aid workers said.
Army tanks also deployed in the eastern city of Deir al-Zor Saturday to confront a growing rebel force there — setting up another possible flashpoint, opposition campaigners said.
The outside world has proved powerless to halt the killing in Syria, where repression of initially peaceful protests against Assad's rule has spawned an armed insurrection by army deserters and others.
Anti-government activists accused government troops of launching the renewed attack on Homs to punish people in the city, seen as a symbol of the year-long revolt, and arresting hundreds across the country.
"In an act of pure revenge, Assad's army has been firing mortar rounds and … machine guns since this morning at Jobar," said the Syrian Network for Human Rights, referring to a district next to Baba Amr, where rebels had faced nearly a month of siege and shelling before fleeing Thursday.
"We have no immediate reports of casualties because of the difficulty of communications," the campaign group said in a statement.
UN Secretary General Ban Ki-moon earlier said he had received "grisly reports" troops were executing and torturing people in Homs after insurgents abandoned their positions.
Syria's government says it is fighting foreign-backed "terrorists" whom it blames for killing hundreds of soldiers and police across the country.
The United Nations says Syrian security forces have killed more than 7,500 civilians since the revolt against Assad's rule began in March last year.
Concern was mounting for civilians in freezing conditions in Baba Amr, where the International Committee of the Red Cross (ICRC) said Assad's forces were holding up its trucks.
A Damascus-based ICRC spokesman said Syrian authorities had given the convoy permission to enter but government forces on the ground had stopped the trucks because of what they said were unsafe conditions, including "mines and booby traps."
Opposition sources said Syrian army tanks had started massing in the eastern city of Deir al-Zor to support pro-Assad forces there who had come under attack from Free Syrian Army rebels.
"Old Russian T-54 tanks and armoured vehicles have taken positions at main roundabouts. Every half an hour or so you hear gunfire by the Free Syrian Army directed at roadblocks manned by security police and 'shabbiha' (pro-Assad militia)," Abu Abdel Rahman, one of the activists, told Reuters from Deir al-Zor.
Controlling the Sunni Muslim city, 450 km (280 miles) northeast of Damascus, could pose another major challenge for Assad, a member of Syria's minority Alawite sect, an offshoot of Islam that has dominated Syria for the last five decades.
Chine opposes "interference"
Russia and China have twice vetoed council resolutions that would have condemned Damascus, accusing Western and Arab nations of pushing for Libya-style "regime change" in Syria.
China urged both Damascus and the rebels to end the violence, particularly against civilians, immediately and start talks, but again said it opposed any foreign military intervention in Syria.
"We oppose anyone interfering in Syria's internal affairs under the pretext of 'humanitarian' issues," said a foreign ministry statement carried by Xinhua news agency early Sunday Beijing time and monitored in London.
Former Syrian ally Turkey said Assad was committing "war crimes" and condemned Syria for blocking aid to Baba Amr.
"The Syrian regime is committing a crime against humanity every day," Turkish Foreign Minister Ahmet Davutoglu said.
Syria's SANA news agency reported a suicide car bombing in the southern town of Deraa, but activists denied it was a suicide attack.
SANA said the Deraa bomber killed three people and wounded 20 others, while residents said seven people had been killed.
Rami Abdelrahman, head of the Britain-based Syrian Observatory for Human Rights, said anti-Assad fighters had killed six soldiers and wounded nine in the town of al-Herak, south of Deraa.
He also said seven people had been killed in Syria's north in and around Idlib province, three by a roadside bomb and the others by gunfire from Syrian security services.
In the suburbs of Damascus, activists reported hundreds of arrests and said Syrian security forces had killed three people during raids in which they also set alight homes and cars.
Due to media restrictions, the activists' reports could not be independently verified.
In unusually tough remarks to the UN General Assembly on Friday, Ban blamed Damascus for the suffering of civilians.
"The brutal fighting has trapped civilians in their homes, without food, heat or electricity or medical care, without any chance of evacuating the wounded or burying the dead. People have been reduced to melting snow for drinking water," he said.
Syrian UN Ambassador Bashar Ja'afari, said Ban's comments included "extremely virulent rhetoric which confines itself to slandering a government based on reports, opinions or hearsay."
The body of French photographer Remi Ochlik, who was killed in Syria with Amnerican journalist Marie Colvin, was due to arrive in Paris overnight.