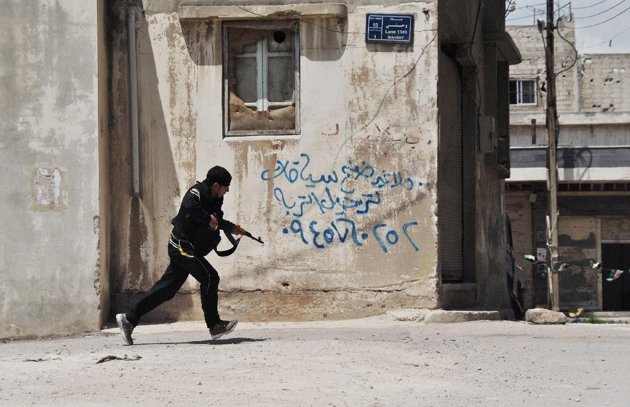 Syria-based rebel fighters and activists said they would boycott an opposition meeting in Cairo on Monday, denouncing it as a "conspiracy" that served the policy goals of Damascus' allies Moscow and Tehran.
The two-day meeting, to be attended by the main exiled opposition bloc, the Syrian National Council, and other smaller groups, is intended forge a common vision for a political transition in Syria after 16 months of bloodshed.
"We refuse all kinds of dialogue and negotiation with the killer gangs … and we will not allow anyone to impose on Syria and its people the Russian and Iranian agendas," said a statement signed by the rebel Free Syrian Army and "independent" activists.
The signatories criticized the agenda of the Cairo talks for "rejecting the idea of a foreign military intervention to save the people … and ignoring the question of buffer zones protected by the international community, humanitarian corridors, an air embargo and the arming of rebel fighters."
The Cairo talks come after world powers meeting in Geneva on Saturday agreed a transition plan that was branded a failure by both the opposition and the Syrian state media.
The boycotters said the talks follow the "dangerous decisions of the Geneva conference, which aim to safeguard the regime, to create a dialogue with it and to form a unity government with the assassins of our children."
"The Cairo conference aims to give a new chance to [UN-Arab League] envoy Kofi Annan to try again to convince Assad to implement his six-point plan … while forgetting that thousands have been martyred since the plan came into force," they said.
Of the more than 15,800 people killed since the uprising against President Bashar al-Assad's rule erupted in March last year, nearly 4,700 have lost their lives since a cease-fire brokered by Annan was supposed to have taken effect on 12 April, according to the Syrian Observatory for Human Rights.
The transition plan agreed in Geneva did not make any explicit call for Assad to cede power, as urged by Western governments, after Russia and China insisted that Syrians themselves must decide how the transition takes place.
The Syrian National Council said in a statement on Sunday that "no initiative can receive the Syrian people's backing unless it specifically demands the fall of Bashar al-Assad and his clique."