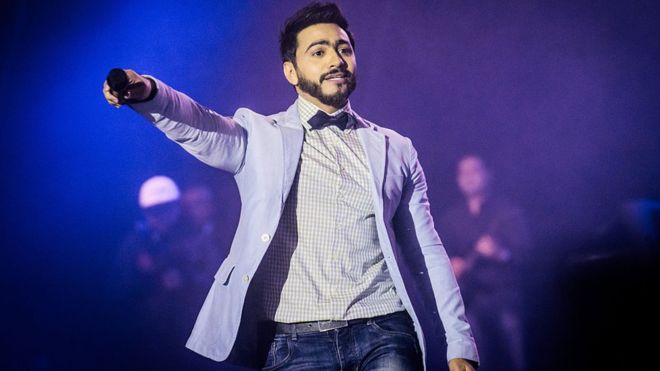 Singer Tamer Hosni gave his first concert in Saudi Arabia in King Abdullah Economic City on Friday night. Saudi singer Mohamed al-Sahly started the concert and ended by introducing Hosni on stage.
Fifteen thousand young men and ladies attended the concert whose chants rose when Hosni appeared on stage. He started by thanking the Saudi government saying this concert was the most important event in his life especially that the tickets were sold out.
Hosni started by singing Enaya Bethebak and commented after the song saying: "I feel that I'm singing for the first time today".
He sang Kol Marra, Bent el-Eih, Telephony Beyren, Argalek, and Batalet el-Alam.
Hosni invited host Tamer Amin to go on stage.
Amin said: "Hosni lifted the head of Egypt like international [player] Mohamed Salah."
Saudi Arabia's General Authority for Entertainment (GAE) announced that Hosni will host a concert for the first time in the King Abdullah Economic City on March 30, 2018.
Saudi Arabia further witnessed its first ever Opera performance, 'Antar and Abla', as well as a Jazz Festival in February.
In December 2017, Saudi Arabia decided to open a cinema in March, 2018 after a 30-year ban.
It comes as part of the Kingdom's 'Vision 2030', one of which's aims is to increase the entertainment sector to the national GDP, from three percent to six percent.
Crown Prince Mohammed Bin Salman previously said that his country aims to localize 50 percent of the leisure sector, with Saudi citizens spending $22 billion on entertainment activities abroad each year.
Edited translation from Al-Masry Al-Youm
.