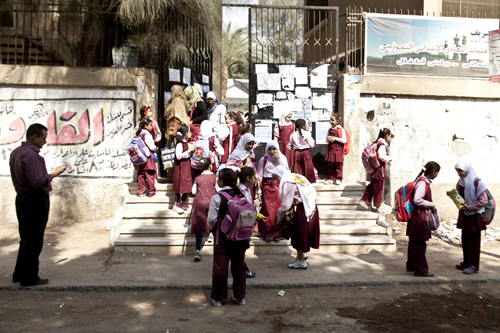 Disciplinary action has been taken primary school teacher in the Upper Egyptian governorate of Luxor after she cut the hair of two female pupils last Wednesday as a punishment for not wearing hijabs, Education Minister Ibrahim Ghoneim said Wednesday.
The minister told Al-Masry Al-Youm that the Luxor Education Department referred the teacher to its legal affairs office, deprived her of a month's payment, and transferred her to another school.
Ghoneim denied any intentions in the ministry to separate male and female students or to impose hijabs on students, stressing that wearing the garment is a personal choice. He added that the parents of the affected students still have the right to take legal action against the teacher.
Zakaria Abdel Fatah, head of the state's Education Directorate in Luxor, referred the teacher to the administrative prosecution, which deals with disciplinary procedures for state employees, after the students' fathers complained about the incident, state-run news agency MENA reported.
The website of state-run Al-Ahram newspaper said on Tuesday that the teacher had previously warned female sixth graders not to come to school without wearing hijabs, allegedly threatening to cut the hair of anyone who didn't comply.
Kamal Moghith, an expert at the National Center for Education Research and Development, described the incident as a continuation of a 30-year process of Islamizing education. "Former president Anwar Sadat allowed Islamists to delve freely in the cultural and social arenas in return for confronting leftists and Nasserists," he said.
"Since then, the Muslim Brotherhood have been trying to intervene in education, both in syllabi and administration," he told Al-Masry Al-Youm, claiming that the incident can be linked to the Brotherhood's political rise.
Instances of teachers physically punishing students is common in public schools here. Children's rights groups have long been pressing for an end to corporal punishment in schools.
The Egyptian Pediatric Association on Tuesday denounced statements by the education minister seemingly condoning such punishment.
Ghoneim said during a press conference in Gharbiya Governorate Sunday that corporal punishment is acceptable provided it is not severe, stressing that he would not allow teachers to be humiliated while he is in office, Al-Masry Al-Youm reported.
The association said in a statement that hitting students hinders their comprehension abilities and undermines creativity, in addition to causing psychological disorders.
The association called for confronting the phenomenon which violates children's rights and urged the minister to clarify his remarks, according to Al-Masry Al-Youm.