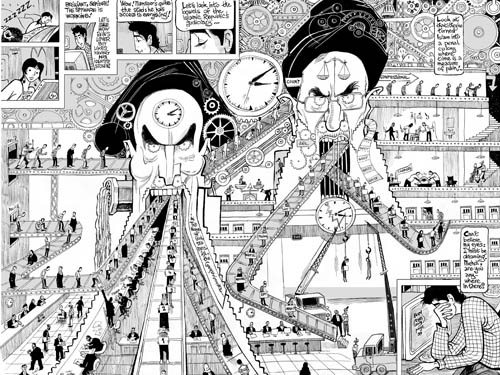 "Zahra's Paradise," a graphic novel released last September, was inspired by the energy and hope of the 2009 Iranian uprising. The project documents both Iran's mass protests and their aftermath; and although its characters are fictional, it pays serious attention to historical detail, and thus is not unlike Joe Sacco's documentary graphic novel, "Palestine."
But, "Zahra's Paradise," written between 2009 and 2011, is unique in that it was produced both rapidly and "live": Amir and Khalil published their work on a website, in a dozen languages, three times a week.
Khalil, an acclaimed Algerian-American comic artist, is the project's illustrator. Amir, an Iranian-American who has worked in academia and human rights, is the author. For various reasons, they have chosen not to go by their full names, but by the joint moniker "Amir and Khalil."
The book is now coming out in print editions, language by language, with the newest edition, Turkish, scheduled for release in September. It disappointingly has not yet appeared in Arabic. Arabic was one of the 12 languages in which it appeared online, but the work is yet to be published in a full, thorough Arabic edition.
Khalil was particularly interested in an Arabic-language version, as he considered it part of his "mission as an Arab to educate the Arabs, who thought they knew what was going on in Iran." He continues his search for an interested publisher.
Both author and illustrator spoke to Egypt Independent at the recent Abu Dhabi International Book Fair, where they were welcomed by an enthusiastic reception. They spoke of what inspired "Zahra's Paradise," and how putting together a graphic novel, a form that was still new for both Amir and Khalil back in 2009, could be democratic.
The pair was spurred to produce the graphic novel after watching the mass protests in Iran and the brutal crackdown that followed. They felt a wave of energy, Khalil says, and "we definitely jumped … It was just an instinctive reaction on the part of Amir." After that, they quickly found a publisher, and it was the publisher's idea to serialize the comic. Translators then came on board. Comments on the website, particularly from Iranian readers, spurred Amir and Khalil to continue.
The collaboration began, Khalil says, because they felt "Tehran was so desperate to communicate with the world." Both had a love for the Iranian people and felt connected to all the bloggers, human rights workers, and citizen journalists who were working to document Iran's complex story.
"We were part of that chain of communication, and thus the birth of this work," he adds. "We feel we are the co-authors of this book. The people in Iran are really the authors."
"The heart of the effort was an act of solidarity with the Iranian people," Amir adds.
"Zahra's Paradise" follows the search for Mehdi, a (fictional) young protestor who disappeared during the 2009 protests. His mother and brother refuse to let him go, however, and try to follow his path through harrowing scenes of rebellion and repression. Amir and Khalil felt, almost immediately after the events in Iran in 2009, that the graphic novel medium was the best way to communicate this story.
"In a way," Amir says, "the graphic novel is the fastest, easiest, cheapest way to communicate."
Khalil says that the entire process was collaborative. "It takes several waves," he says. "We can see the rough story, the rough words. We come back with the fine-tooth comb, make it a little tighter … it becomes very precise after a while. Only then, when we have something that is put together very tightly, can I do the drawings."
In the end, the words and the drawings cannot be separated, Khalil says. "I like to compare the medium … to what a good song does. It is hard to separate the music from the words. A good graphic novel is also a good alchemy, a good chemistry between [images and text.]"
The project took approximately two years of work. For those two years, both Amir and Khalil worked as fast as they possibly could, sorting through mountains of historical and political documents, videos, and testimonies. Although their work is a fiction, they felt it was important that it be rooted in real events. "It was very hard physically, because it was constant, constant, constant," Khalil says. "No weekends, no breaks, for really two years."
But, Amir adds, on the positive side, "I think the pressure we were under forced a certain economy of thought."
The graphic novel format was so successful, they say, because comics have a way of breaking through a reader's hardened expectations. The story in "Zahra's Paradise," Khalil says, has really touched readers in the West. "I'm talking about today, when we are supposed to have a clash of civilizations. It transcends all the barriers that are there."
Both Amir and Khalil called the graphic novel a compellingly democratic medium. They point to other author-artist endeavors with both "fictional" and "documentary" aspects, such as graffiti on downtown Cairo's walls. Graphic novels also might have a particular role to play in revolutions, Amir says.
"Look at the power of the pamphlet in the French Revolution. Look at the power of it as an instrument for communicating news, and the speed at which news traveled around France at the time."
Khalil says that, in the last several years, the standards of comic strips have been lowered. This has opened the space to many more would-be artists. This is not necessarily a bad thing, he says. It allows more people to work faster and to reach larger audiences. What is important is not to have a perfect drawing, he says. "What is important is being able to tell your story."
For now, Amir and Khalil are working on a second graphic novel collaboration. According to Khalil, the second book begins in Istanbul, where "Zahra's Paradise" ended. "We'll see … what sort of reverberations the 'Arab Spring' will have on our characters."
Images courtesy of Amir and Khalil