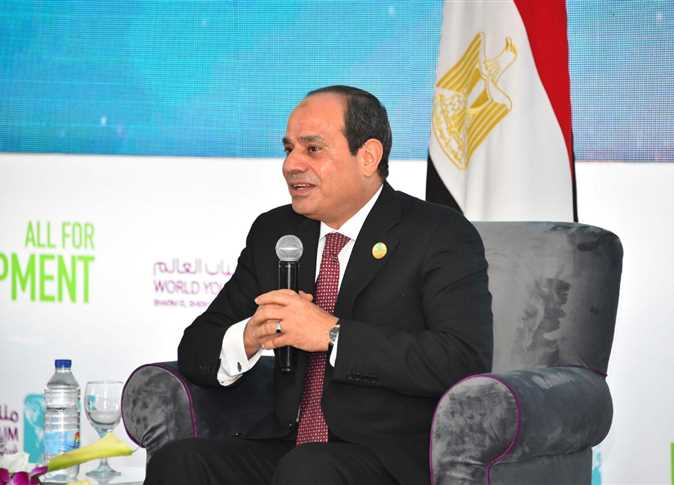 Egyptian President Abdel Fattah al-Sisi stressed the importance of the concept of popular will and common awareness to strengthen the role of law and justice in the African countries so as to enable them to effectively address common challenges such as terrorism and extremist thought, which is one of the most serious challenges facing the entire world, not just the African countries.
Sisi added that it is imperative that the judicial institutions be able to confront terrorism and develop the necessary legal frameworks to deal with it, taking into account the need to preserve the rights and gains of the state.
He said that combating terrorism is one of the most important human rights, the right to life itself and the right to feel secure, without which life, development and progress are impossible.
This came during a meeting on Tuesday between President Sisi and the presidents of African constitutional and supreme courts participating in the third conference organized by the Egyptian Constitutional Court.
Egyptian presidential spokesperson Bassam Rady said that Sisi praised the pivotal role played by the supreme constitutional courts of the African countries in activating judicial protection for African citizens within the framework of the rule of constitutional legitimacy.
He pointed out that the Egyptian Supreme Constitutional Court enjoys solid legal experience and traditions due to its establishment many decades ago and its success in overcoming the many challenges it has faced over the past years.
Sisi stressed Egypt's keenness to activate all existing cooperation frameworks between the African brothers and to exchange experiences among them, especially under the current Egyptian presidency of the African Union, during which Egypt aspires to intensify joint African cooperation in all fields, including judicial cooperation.
The spokesman said that the meeting witnessed an open dialogue between Sisi and the presidents and representatives of the constitutional and supreme courts of Africa on the most important topics dealt with in this year's edition of the conference, especially the role of the judiciary in combating corruption and balancing efforts to tackle terrorism and protect human rights.
Edited translation from Al-Masry Al-Youm