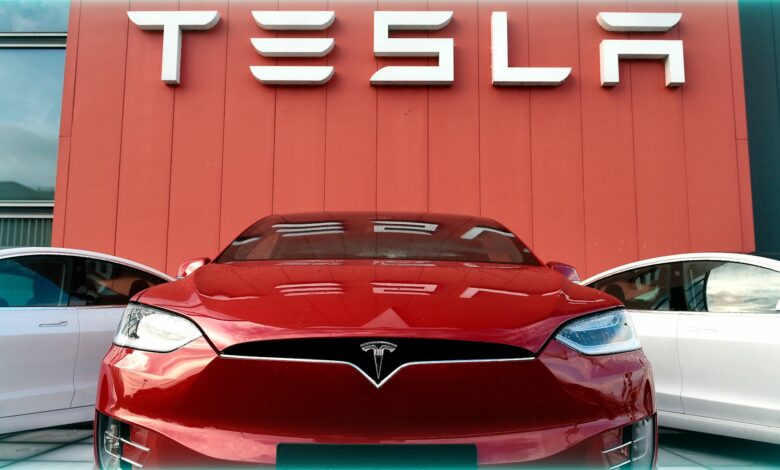 New York
CNN Business
 —  Tesla posted a solid quarter of earnings and record revenue, but now says it will fall short of its target for a 50 percent growth in the number of cars it sells this year.
As recently as July it said it was still aiming for a target of a 50 percent growth from the 936,000 cars it delivered in 2021. But with two quarters of disappointing deliveries caused by supply chain issues and Covid-related shutdowns in China, it would have been a reach to hit that goal for 2022.
The company had previously reported it delivered 344,000 cars in the third quarter, a record for the company, and up 42 percent from a year ago. But it would have needed to deliver another 495,000 cars in the fourth quarter in order to hit the 50 percent growth target.
Telsa still has a fraction of the sales of established automakers. But it is by far the most valuable automaker in the world, worth more than the 10 largest automakers in terms of sales volumes. Its rapid pace of growth is one of the things driving that lofty stock valuation.
The company is still "looking forward to a record-breaking Q4," CEO Elon Musk said on a call with investors Wednesday. "So it really, knock on wood, it looks like we'll have an epic end of year."
But while the company said "over a multi-year horizon, we expect to achieve a 50 percent average annual growth in vehicle deliveries," CFO Zach Kirkhorn did concede during the investor call that "on the delivery side, we do expect to be just under 50 percent growth due to an increase in the cars in transit at the end of the year."
This was a step back from what the company was saying as recently as July, when Kirkhorn said, "Despite losing more builds in Q3 than expected, we're still pushing to reach 50 percent growth this year. This target has become more difficult but it remains possible with strong execution."
Musk insisted that the target miss is the result of a logistics problem, as the company has had trouble finding the number of ships, trains and car-carrying trucks needed to make the deliveries by the end of the quarter.
"We have excellent demand for Q4," Musk said."The factories are running at full speed, and we're delivering every car we make."
The company said the logistical issues delivering cars means that for the second straight quarter it will produce more cars than it delivers to customers. That's the first time that has happened in consecutive quarters according to analyst Gordon Johnson, one of the most bearish analysts in his analysis of Tesla.
Johnson said that should be a concern for investors. Building more cars than you sell is "the quintessential definition of not being sold out," Johnson said in a note to investors. "We believe the long-forecasted Tesla demand cliff is here, yet Tesla bears and bulls alike refuse to acknowledge it."
The company posted adjusted earnings of $3.7 billion, up 75 percent from a year ago, but still 2 percent short of the record earnings it reported in the first quarter. It was better than the $3.5 billion earnings forecast by analysts surveyed by Refinitiv.
Revenue did reach a record $21.5 billion, up 56 percent from a year ago, but short of the $22 billion forecast by analysts.
Shares of Tesla (TSLA) were down about 6 percent in premarket trading Thursday following the Wednesday evening report. They had already lost 37 percent so far this year through Wednesday's close.
The stock's relatively modest decline is likely because investors were already expecting Tesla to concede it wouldn't hit the 50 percent growth figure, according to Dan Ives, tech analyst for Wedbush Securities. But even if missing the target wasn't a surprise, it was a hit for a company whose valuation was based on its growth prospects, he said.
"This quarter was not roses and rainbows. The delivery miss, combined with them taking their medicine, recognizing they're not to hit the 50 percent number," he said. "Investors are so used to Tesla being a Cinderella story since 2018. Essentially the clock has struck midnight. Competition is increasing. There are some logistical challenges."
The next challenge facing Tesla will come as Musk's plan to purchase Twitter plays out in the next few weeks. Musk has already sold 17.6 million shares of Tesla stock, raising $15.4 million, since announcing his agreement to buy Twitter. But it's expected he'll have to sell more to raise the full amount of cash he'll need.
In July, Musk announced he wanted to pull out of his proposed deal, but earlier this month he reversed course and said he would again move forward with the $44 billion deal. He has not been able to sell Tesla shares since that latest reversal, because as a company insider he can't sell shares between the end of a quarter and when it reports. But now, he is again free to sell shares.
"This report comes at a very bad time with Musk likely needing to sell more Tesla stock," Ives said. "I think they will navigate these challenges. But Musk needs to be the pilot on the plane. There is a legitimate fear of him juggling too many balls with Tesla, SpaceX and Twitter."
In response to a question about whether it would ever make sense to combine Tesla, SpaceX and Twitter into a single conglomerate with divergent parts, like Google parent Alphabet (GOOG), Musk dismissed the idea as "reaching." He said he's excited by the prospects for Twitter, saying it has tremendous potential be be more valuable than the $44 billion he and partners will be paying for it, although he conceded "myself and the other investors are obviously overpaying for Twitter right now."
In an effort to boost the company's stock price, Musk did tell investors that "it is likely" that the company will do a share buyback "on the order of $5 billion to $10 billion" worth if its stock. The company has never done a share buyback. Instead, with share values climbing in the past, it had frequently sold additional shares in order to raise its cash reserves.
Shares briefly shaved their after-market losses when Musk mentioned the buyback, only to see the stock lose even more ground after the company moved off its 50 percent sales growth target.