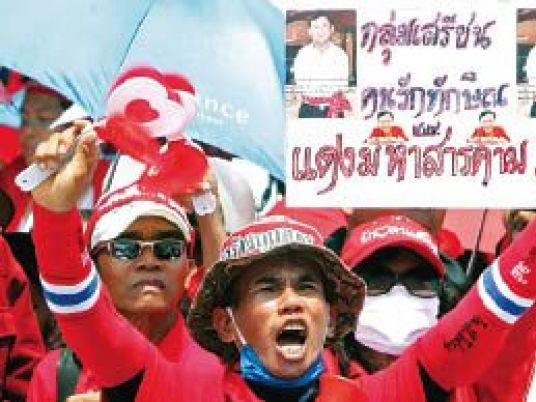 The leader of Thailand's pro-government "Red Shirt" movement called Thursday for a national referendum to resolve a political deadlock that prompted the army chief to declare martial law.
Jatuporn Prompan said he made the proposal a day earlier during closed-door talks between the kingdom's warring political camps that were ordered by army general Prayut Chan-O-Cha.
"Whatever the outcome is, we are ready to accept it (a referendum result)," Jatuporn said at a press conference.
"We are not extremists who don't listen to anything."
Further talks were set for Thursday at 2 pm (0700 GMT).
The referendum would ask Thai voters to decide on a key dispute between the Red Shirts and a virulent anti-government movement that has waged a debilitating protest campaign for seven months.
The Red Shirts want new national polls they hope will provide a fresh mandate to the beleaguered elected government.
But the anti-government protesters are demanding vague reforms first. The reforms are widely seen as a bid to cripple the political power of the Red Shirt's hero, deposed former premier Thaksin Shinawatra.
The opposing camps and other top political actors met for more than two hours of rare talks in Bangkok on Wednesday.
Prayut, 60, invoked martial law Tuesday, saying he acted to prevent political tensions spiralling out of control but insists he intends to broker a solution.
Some critics have branded the move a de facto coup, but even the pro-government Red Shirts have muted their criticism for now.
The political crisis broadly pits a Bangkok-based royalist elite and its backers against the billionaire family of Thaksin, who was ousted by the military in 2006 but still enjoys strong support particularly in rural northern Thailand.
Martial law gives the military wide power to ban public gatherings, restrict people's movements, conduct searches, impose curfews and detain suspects for up to seven days.
The military has ordered 14 satellite television stations to suspend broadcasts and has announced restrictions on social media content, to the alarm of human rights campaigners.
The move has barely caused a ripple in Bangkok, with life going on as normal.
But the army said police and military raids had seized four different caches of weapons in areas near the capital since martial law was imposed.
The weapons are suspected to have been gathered for the purpose of fomenting political violence, but it was not known who had collected them, army spokesman Colonel Winthai Suvaree told reporters.
"Officials are serious in cracking down on weapons to prevent any attacks," he said.
He rejected an allegation by Jatuporn that the weapons would be used by the military as a pretext for a wider crackdown.