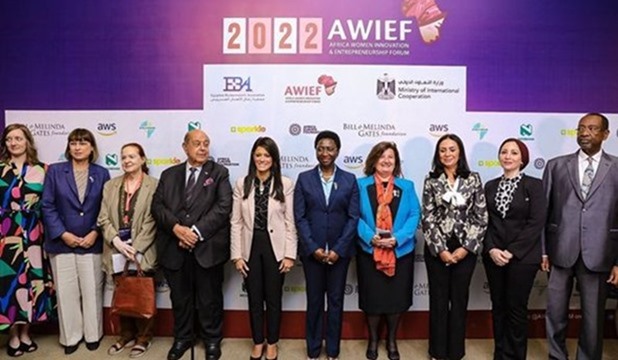 Minister of International Cooperation Rania Al-Mashat inaugurated, on Monday 26-9-2022, the 8th edition of the Africa Women Innovation and Entrepreneurship Forum (AWIEF) conference and awards.
This year's conference is held under the theme: "Advancing Africa through Gender Integration".
The two-day AWIEF2022 will include a dedicated onsite exhibition called The Creative Lane where businesses in the creative industry are invited as exhibitors to promote and showcase their products and services. The conference will be attended by African and global participants and will feature a stellar line-up of speakers, high profile keynotes, interactive panel discussions, B2B meetings and high-level networking.
AWIEF2022 is a hybrid event (in-person in Cairo and online), with an easy-to-access virtual platform for speakers, delegates, and virtual exhibitors to participate.
The conference will be capped by an awards ceremony and gala dinner which will take place in a very special destination in Cairo on Tuesday, where the eight winners of the 2022 AWIEF Awards will be announced and celebrated. The Headline Sponsor for the AWIEF Awards is Amazon Web Services (AWS).
The conference is co-organized by the Egyptian Businessmen's Association, a non-governmental, not-for-profit organization that seeks to unify the efforts of private Egyptian interests in contributing to the productivity and efficient national economic and social development of Egypt.
Minister of International Cooperation Rania Al-Mashat delivered a speech at the inauguration of the 8th edition of the Africa Women Innovation and Entrepreneurship Forum (AWIEF).
Mashat said: "The hosting of this event reflects Egypt's keenness and support for empowering women and enhancing their economic participation and important roles on innovation and entrepreneurship to achieve sustainable development. Such a step also reflects the state's pivotal roles and national efforts on women empowerment to strengthen women's contribution to the labour markets."
Al-Mashat added that in light of the world's tendency to achieve the Green Economy Transition (GET), and reduce emissions, women can play a pivotal role in supporting these goals, stimulating adaptation projects and mitigating the repercussions of climate change in their societies, noting that Egypt is hosting the 2022 United Nations Climate Change Conference (COP27) , which is an opportunity to highlight climate action efforts on the continent and mobilize the interest of the international community towards stimulating a green transition in the continent that is the least contributor of harmful emissions.
She pointed out that the Ministry of International Cooperation, in cooperation with national authorities, development partners and the private sector, launched the International Climatech Run 2022 competition, which targets emerging companies working in the field of climate technology from Africa and around the world, with the aim of stimulating and encouraging innovative and sustainable digital and technological solutions to promote climate action and facing the resulting economic and social repercussions.
For her part, Elena Panova, the UN Resident Coordinator in Egypt, thanked the Africa Women Innovation and Entrepreneurship Forum for the organization of this event, co-hosted by the Ministry of International Cooperation and the Egyptian Businessman Association.
She said that this is an opportune moment for us to emphasize the importance of South-South cooperation, which the UN system truly prioritizes, and this event plays a crucial role in facilitating such a necessary knowledge and best practices exchange.
She also asserted that "Egypt really is at the heart of Africa on innovation and entrepreneurship – this is echoed by 562 active tech start-ups, growing investments – attracting around $300 million just in 2022 so far – into enterprises, including social enterprises, that continue to grow by the day."
She pointed out that there is still a lot to be done in expanding women's economic participation in growth economic sectors, and in leveraging their full potential accordingly.
For his part, Engineer Ali Issa, head of the Egyptian Businessmen Association, stressed that Egypt, since President Abdel Fattah El-Sisi assumed the presidency, has paid great attention to strengthening its African identity and its integration into the continent, as well as the economic empowerment of women by strengthening African political and economic cooperation in security, climate and human development issues.
The head of the Egyptian Businessmen Association added that African women have an active role in advancing the African economy, saying: "we, as governments, development partners and businessmen, must give more opportunities to businesswomen, which is in the interest of gender balance and equality at work by adopting more comprehensive methodologies for service providers."
For her part, Irene Ochem is the Founder & CEO of Africa Women Innovation and Entrepreneurship Forum (AWIEF), said that the conference, in its eighth edition, aims to achieve gender inclusion.
She stressed that Egypt is one of the advanced countries in supporting and empowering women and women's work, as it hosts the Climate Summit, which discusses important issues related to sustainable development and women, pointing out that the African Women's Forum seeks to implement Africa's Agenda 2063.
Meanwhile, Deputy Chairperson of the African Union (AU) Commission Monique Nsanzabaganwa, stressed, during her participation on Zoom, that entrepreneurs, youth and small and medium-sized projects are the key to economic growth in Africa, as they represent 80% of the total business.
She stressed the importance of allocating 10% of every $100 billion for financing women's projects and entrepreneurs, as well as supporting financial tools in companies to empower women and youth in line with Africa's Agenda 2063, by pushing bilateral and multilateral cooperation and non-governmental organizations to provide support for private work.
For her part, Minister of Social Solidarity, Nevin Al-Kabbaj, said that Africa is a continent full of natural resources that can be invested in developing the economies of the surrounding countries, led by Egypt, stressing that the development of its food resources can suffice to be the food basket of the entire region.
She also sent a message to women in Egypt and Africa, saying: "The strongest survive in a world teeming with economic competition… and you have to work hard, enhance knowledge and skills, and develop partnership in order to maximize competitiveness and open export opportunities."
Al-Kabbaj explained that the Ministry of Social Solidarity plays an important role in supporting and empowering small manufacturers and production cooperatives through various initiatives that focus on training and empowerment, improving product quality, setting standards for pricing and protecting consumers, and contributing to marketing and holding internal and external exhibitions.
Al-Kabbaj reported that over the past five years, the ministry has organized more than 40 local and international exhibitions for heritage industries and furniture makers.