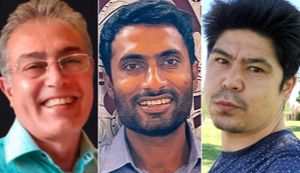 (CNN)The ambush-style shootings of three Muslim men and the recent killing of a fourth in Albuquerque have alarmed the city's Muslim community and triggered warnings for mosque-goers as police investigate how the shootings may be linked.
The killings of Mohammad Ahmadi, 62, Muhammad Afzaal Hussain, 27, Aftab Hussein, 41, and Naeem Hussain, 25, all have one commonality: the victims were all Muslim and of South Asian descent, according to Albuquerque police.
The three most recent killings happened within the span of two weeks, putting the city on edge as police probed for potential links between the attacks, and put a spotlight on an unsolved homicide from November 2021.
"While we are still sifting through all the evidence to look for more connections, it is deeply troubling that these three men were Muslim and of similar descent," deputy commander of Albuquerque Police Department's Criminal Investigations Division, Kyle Hartsock, said.
The FBI is assisting with the investigation, and an 
online portal
 was set up for residents to upload videos and images which might help authorities investigating the killings. The local Crime Stoppers Board has also voted to increase a reward for information leading to an arrest to $20,000.
Police have not come out with any descriptions of a suspect or suspects in the killings. They have, however, said they are seeking "a 
vehicle of interest
," which may be connected to the four killings. The vehicle is a dark silver sedan-style Volkswagen Jetta or Passat with tinted windows.