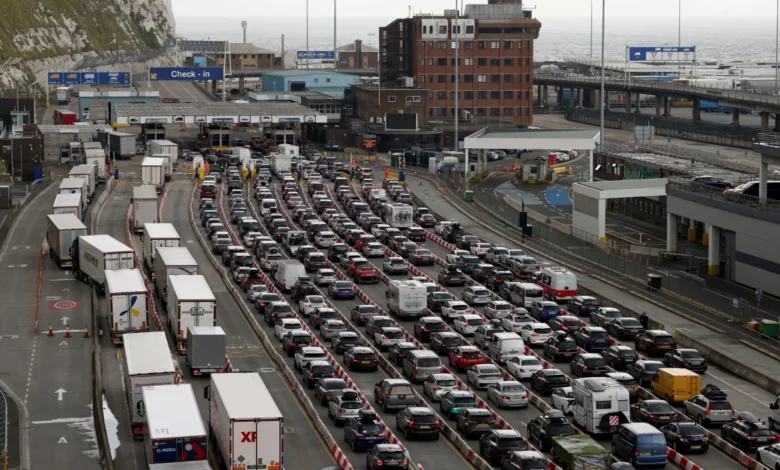 London
CNN
 —  The UK government has delayed health and safety
checks on food imports
from the European Union for the fifth time in three years amid fears that the extra controls will push up
food prices
and disrupt vital supplies.
The latest foot-dragging demonstrates that Britain is still struggling to come to terms with the painful consequences of leaving the European Union in January 2020, which has piled costs on UK businesses and weighed on trade, investment and, ultimately, economic growth.
Brexit has already contributed to Britain's particularly high inflation by introducing friction into the country's most important trading relationship, and hitting the value of the pound, which has made imports more expensive. A recent study by the London School of Economics found that Brexit was responsible for about a third of UK food price inflation since 2019, adding nearly £7 billion ($8.8 billion) to Britain's grocery bill.
The UK government is anxious to avoid doing anything that makes matters worse. Tuesday's announcement also highlights long-running concerns that border checks on food imports from the EU — which supplies 28 percent of the food consumed in Britain — could choke off supplies.
The government said Tuesday that extending the deadlines would "give stakeholders additional time to prepare for the new checks."
Under the revised timetable, health certification for "high-risk food" and "medium-risk" animal and plant products, which was previously due to be introduced at the end of October, will be pushed back to January 2024. Physical inspections have been pushed back to the end of April, with the final controls on EU imports — safety and security declarations — postponed to October 2024.
Some UK industry groups welcomed the latest delays to border checks, which, they said, will add costs and friction to supply chains.
"These Brexit checks will fuel food price inflation whenever they are brought in, and so the longer they are held off the better," said Shane Brennan, CEO of the Cold Chain Federation.
The association — representing businesses that deliver perishable produce, which needs chilled storage — is worried that some smaller EU suppliers may simply stop exporting their products to the United Kingdom in the face of new and costly bureaucracy.
But industry groups also urged the government to provide certainty for businesses, which have repeatedly prepared for checks only to see deadlines deferred.
Although the delay was the "right decision," Brennan said it was "yet another blow" to the government's credibility, and "this confusion at the top" would make it even more difficult to ensure EU businesses were ready to abide by the new rules.
Andrew Opie, director of food and sustainability at the British Retail Consortium, a trade association, added: "We need to ensure EU exporters, who have already seen multiple postponements of [UK] checks, will thoroughly prepare for January and April checks in the belief that controls will be implemented."
Supply fears
UK food producers have been subject to full border controls on products heading into the EU since January 2021, when Britain exited the EU's vast internal market and customs union. In turn, checks on EU food coming into the UK were supposed to come into effect at the same time but were first delayed in the middle of the pandemic.
The UK economy remains in a fragile state, after Covid-19 was swiftly followed by the twin ills of high inflation and rising interest rates.
The UK inflation rate is the highest in the G7, with consumer prices rising 6.8 percent in July compared with a year ago. Prime Minister Rishi Sunak has pledged to halve inflation this year to around 5 percent.
In its Tuesday statement, the government said the latest timetable for border controls took into account "the small potential impact on inflation" and the government's "firm commitment to bring the rate down."
By its estimates, new checks are expected to add less than 0.2 percentage points to the rate of food inflation over three years.
Beyond inflation, food supply disruptions remain a lingering concern in the UK, which imports just under half of all the food it consumes.
Earlier this year, major UK supermarkets had to ration some fruit and vegetables after poor weather in key growing regions led to a collapse in imports.
A spokesperson for the Food and Drink Federation, which represents UK food manufacturers, said the latest delays to border checks were "unfortunate but necessary, to ensure that the appropriate infrastructure is in place so that supplies of food and drink from the EU aren't disrupted."
In an analysis published earlier this month, the FDF found that UK-EU trade in food and drink dropped substantially in the first quarter of 2021 and took nearly two years to recover.
— Olesya Dmitracova contributed reporting.