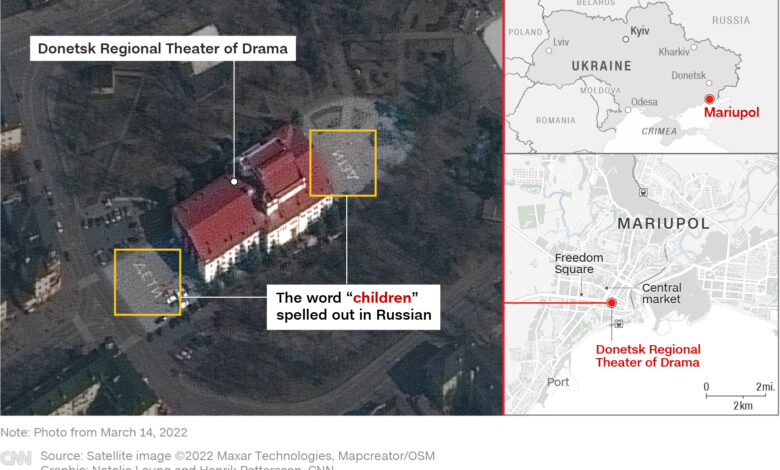 Residents of the besieged Ukrainian city of Mariupol have described the situation there as "unbearable" and "just hell."
On Thursday, survivors began emerging from the rubble of the theater they were sheltering in after it was bombed by Russian forces yesterday, according the former head of the Donetsk region. The number of casualties is unknown.
Hundreds of civilians were thought to have taken shelter in the building amid the ongoing Russian siege of the coastal city. Meanwhile, hundreds of thousands of people are currently trapped there and as many as 2,500 civilians have died in Mariupol, Ukrainian officials estimate.
Here are the latest developments:
Theater bombing: Ukraine's defense minister Oleksii Reznikov on Thursday branded the Russian pilot who bombed the Mariupol theater a "monster." Satellite images geolocated by CNN show the word "children" was written in large letters on two sides of the building.
Russian advance: Invading forces are inching toward the capital Kyiv. The majority of Ukrainian territory remains in Ukrainian hands, while fighting in some regions continues to be intense. The head of the Chernihiv region, northeast of Kyiv and close to the Russian border, said that Chernihiv city is "suffering great losses."
Evacuation efforts: Nine evacuation routes leading out of different Ukrainian cities, including Mariupol, have been agreed for Thursday, the Ukrainian government said. However, Ukrainian President Volodymyr Zelensky said evacuation corridors did not work on Wednesday as the Russian military did not stop shelling.
UN to meet: The UN Security Council will hold a meeting on the humanitarian situation in Ukraine at 3 p.m. ET today.
Appeal to Germany: Zelensky addressed German lawmakers on Thursday, drawing parallels between the Berlin Wall during the Cold War and Ukraine's current position outside of the European Union and NATO. In the address, he also explicitly referenced the post-Holocaust motto: "never again." Zelensky said: "Every year politicians say never again. Now I see that these words are worthless." Chancellor Olaf Scholz said NATO will not risk an escalation in the Ukraine war by intervening with military force.
China dodges question on military aid: China endorsed remarks made by its ambassador to Ukraine on Thursday after the Chinese diplomat pledged Beijing's political and economic support for the war-torn country. But in a sign of Beijing's possible attempt to play both sides, it declined to say if Beijing's support for its ambassador's remarks means China will not offer weapons or other assistance to Russia to support the military invasion in Ukraine.