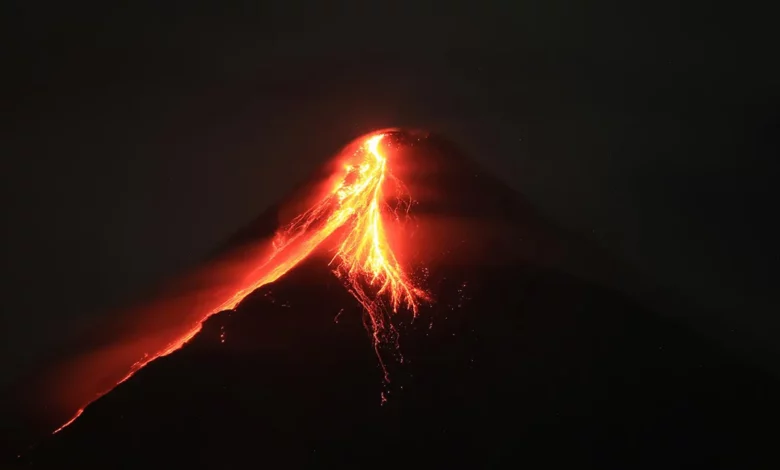 CNN
 —  The Philippines' most active
volcano
began spewing lava and sulfuric gas Sunday, prompting the evacuation of nearly 13,000 residents in the southeast of the country's main island, authorities said.
Philippine Institute of Volcanology and Seismology (Phivolcs) recommended everyone within a 6-kilometer (3.7-mile) radius or "danger zone" of the Mount Mayon volcano be evacuated due to the danger of rockfalls, landslides and ballistic fragments.
Since the alert level on the volcano was raised to 3 out of a possible 5 on Thursday, 88% of residents living in the danger zone have been evacuated and efforts to relocate the rest are ongoing, the Philippine Provincial Information Office said.
Situated on Luzon island about 330 kilometers (205 miles) southeast of Manila, Mayon is one of the world's most active volcanoes.
Images showed families in Albay province carrying children and their belongings, boarding trucks and military vehicles and taking shelter at evacuation centers in local schools.
Phivolcs warned that a "hazardous eruption is possible within weeks or even days" after detecting a "relatively high level of unrest" at the volcano.
Within the past 24 hours, the Mayon Volcano Network recorded 21 weak volcanic earthquakes, and 260 rockfalls, as well as lava flow activity from the crater, according to Phivolcs.
The agency also detected three pyroclastic density currents – hot, fast-moving flows of ash, hot gases and debris that rush down volcanic slopes – and warned of possible ashfall on the south side of the volcano.
Albay province was placed under a state of calamity on Friday allowing the government to release response funds to support affected residents, CNN affiliate CNN Philippines reported.
Speaking to CNN Philippines, Phivolcs director Teresito Bacolcol said they were closely monitoring the situation at the volcano and could raise the alert level to 4 if there is an increase in volcanic earthquakes and inflation of the volcano's edifice.
Bacolcol said there was an effusive eruption Sunday night with lava flows observed to reach 500 meters (1,640 feet) from the volcano's summit.
"Lava flows are slow moving and effusive eruptions are generally less violent and produce less ash and volcanic gases than explosive eruptions," he told CNN Philippines.
Dramatic photos taken at night showed glowing rivers of molten lava spewing from the top of the volcano and scattering down its sides.
Philippine authorities also evacuated 10,000 farm animals, including cows, goats and pigs threatened by the volcanic eruption, to feeding camps and shelters outside the danger zone.
Mount Mayon last violently erupted in 2018, displacing thousands of villagers and coating nearby towns in thick layers of ash.