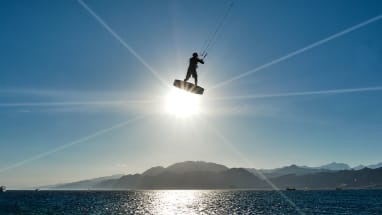 Thousands of European tourists who enjoy practicing kitesurfing and windsurfing have flocked to the beaches of the Red Sea in Hurghada among other marine activities at marine sports centers.
Kitesurfing and windsurfing are marine sports with special requirements.
Hurghada and north Safaga regions in the Red Sea thus form an ideal environment for practicing these sports in Africa and the Middle East thanks to its beaches, high wind speeds, and infrastructure that host enthusiasts from European adventurers.
The sport requires high physical, mental and technical fitness and wind speed between 17-22 knots, as well as a training course that lasts several days.
Marine sports have witnessed a growth in the number of European tourists practicing it, including diving which is the most popular among tourists visiting the Red Sea.
The number of tourists practicing marine sports is estimated between 10 percent and 15 percent of the Red Sea tourists.
Open beaches and fast winds makes the Red Sea one of the most important areas for surfing, and qualifies it to host several international and African tournaments.