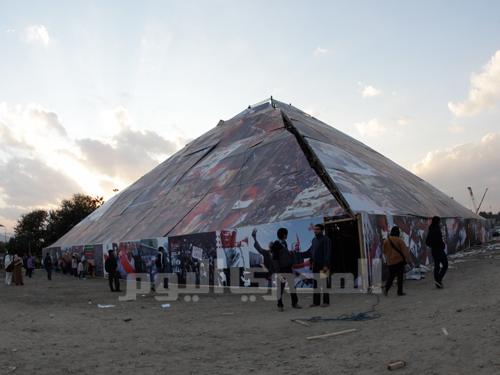 Thousands of Egyptian state textile workers suspended their strikes on Tuesday after receiving concessions in a pay dispute that brought a large part of the industry grinding to a halt last week, an activist and a worker said.
About 23,000 employees at Misr Spinning and Weaving — Egypt's biggest textile company — had been on strike for more than a week, demanding better pay and conditions. They had been joined by about 12,000 staff from other state textile firms.
The Misr Spinning and Weaving workers said their demands had been partially met but that they would resume industrial action in September if they did not receive more concessions.
The textile strikes have been an early test for newly elected Islamist President Mohamed Morsy as he strives to form a cabinet to replace the army-backed interim administration so he can begin to get to grips with a faltering economy.
"We have suspended the strikes until a government is formed and the country becomes more stable," said Faisal Laqousha, a worker at Misr Spinning and Weaving.
A sprawling complex in the Nile Delta city of Mahalla, Misr Spinning and Weaving was the focus of protests in 2008 that sparked a wave of strikes now widely seen as a catalyst for the street revolt that ended the rule of Hosni Mubarak last year.
The firm's employees have received an increase in their share of company profits and were promised an improvement in conditions at the firm's hospital, said Laqousha and labour activist Hamdy Hussein.
They said the workers would resume strikes in September if the firm was not purged of corrupt officials and workers did not receive a bigger increase in their share of profits.
"If by September the workers' demands are not fully met, the strikes will be much stronger," said Hussein.
He said some of the 12,000 workers from other state firms, who had a range of grievances including pay, had also returned to work, while others remained on strike.