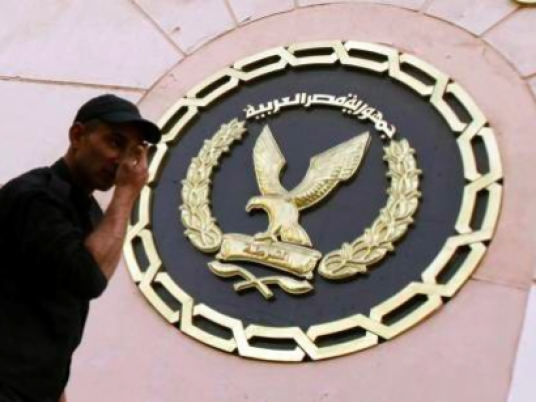 Egyptian prosecutors ordered on Saturday the detention of three low-ranking policemen to four days pending investigation over the purported death of an elderly citizen in custody, in the latest in a series of police brutality incidents.
Prosecutors accused the three policemen of beating Hussein Farghaly to death and of excessive use of force.
One police officer and four other low-ranking policemen, who had been held pending investigation in the same case, were released on bail on Saturday.
Egypt's interior ministry said in a statement on Friday that a complaint was filed by a citizen at the al-Wayly police station who alleged that his brother Ayman Gouda, a landlord, was being held hostage at Farghaly's home, rented from Gouda, because of differences over the amount of rent.
Security forces arrived at the working-class neighbourhood and attempted to negotiate with Farghaly to free the landlord when Farghaly and his family "assaulted the [security] forces," which escalated into clashes and resulted in Farghaly's injury, along with damages to a police vehicle, the interior ministry added in its statement.
Farghaly "felt tired", his body littered with several bruises and wounds, and was taken to a hospital, where he died upon arrival, the ministry said.
Police brutality was one of the triggers of the Jan. 25, 2011 popular uprising, sparked by protests on Police Day in Egypt aimed to draw attention to the police's use of excessive, at times fatal, force.
The past months have seen a rise in incidents in which allegedly trigger-happy policemen were accused of extrajudicial killings of citizens.
Human rights workers, activists, and ordinary citizens have largely scrutinised police performance in Egypt lately.
The interior ministry, however, maintains that these are "isolated incidents" that do not reflect the entire ministry.
In April, President Abdel Fattah al-Sisi held a meeting with the interior minister and ministry officials during which he stressed that it is important to deter "irresponsible" performance of policemen on the street. The meeting came just one day after a policeman reportedly killed a tea vendor, after a quarrel over the price of a cup of tea, in a residential neighbourhood on the outskirts of Cairo.
Earlier, in February, a policeman shot dead a driver in the working-class Cairo neighbourhood of al-Darb al-Ahmar over the cost of loading goods, which also sparked public outrage at the police and promoted hundreds to take to the streets in protest at the working-class Cairo neighbourhood.