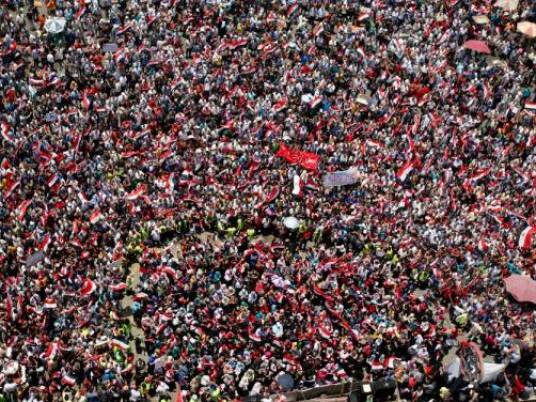 Key developments in Egypt since Islamist President Mohamed Morsy took the oath of office one year ago.
— 2012 —
JUNE
30 – Morsy, elected president with 51.7 percent of the vote, is sworn in, becoming Egypt's first civilian and Islamist ruler.
AUGUST
5 – Gunmen kill 16 guards near the border with Israel.
12 – The President scraps a constitutional document which handed sweeping powers to the military and ousts Field Marshal Hussein Tantawi, who was head of state after Hosni Mubarak's fall in February 2011.
NOVEMBER
22 – Morsy decrees sweeping new powers to the presidency.
30 – Islamist-dominated constitutional assembly adopts a draft constitution despite a boycott by liberal and Christian members.
DECEMBER
8 – Morsy annuls the decree giving the presidency increased powers.
15 and 22 – 64 percent of voters in a two-round referendum back the new constitution, in a vote marred by low turnout.
Egypt plunges into a political crisis, with demonstrations by Morsi supporters and opponents turning deadly at times.
— 2013 —
JANUARY
24 – Violence between demonstrators and police on the eve of the second anniversary of the uprising that overthrew Mubarak. Nearly 60 people die in a week.
APRIL
5 – Sectarian violence north of Cairo kills four Christians and one Muslim.
MAY
7 – Morsy carries out a cabinet reshuffle which falls short of opposition demands.
16 – Gunmen kidnap three policemen and four soldiers in the Sinai Peninsula. They are freed on May 22.
JUNE
2 – Egypt's highest court invalidates the assembly that had drafted the constitution, as well as the Islamist-dominated Senate, which had assumed a legislative role after parliament was dissolved. The presidency said that the Senate will maintain its powers until a new lower house is elected.
4 – 43 Egyptian and foreign NGO employees given jail sentences ranging from one to five years for working illegally, causing international outrage.
15 – Morsy announces the "definitive" severing of relations with war-torn Syria.
21 – Tens of thousands of Islamists gather ahead of planned opposition protests.
23 – Defense Minister Abdel Fattah al-Sisi warns that the army will intervene if violence erupts.
28 – The US tells non-essential embassy staff they can leave after an American is killed during protests.
29 – US President Barack Obama urges Morsi to be more "constructive" as the death toll rises to eight. The Tamarod ("rebellion") campaign which called rallies for 30 June says more than 22 million have signed a petition demanding Morsi's resignation and a snap election.