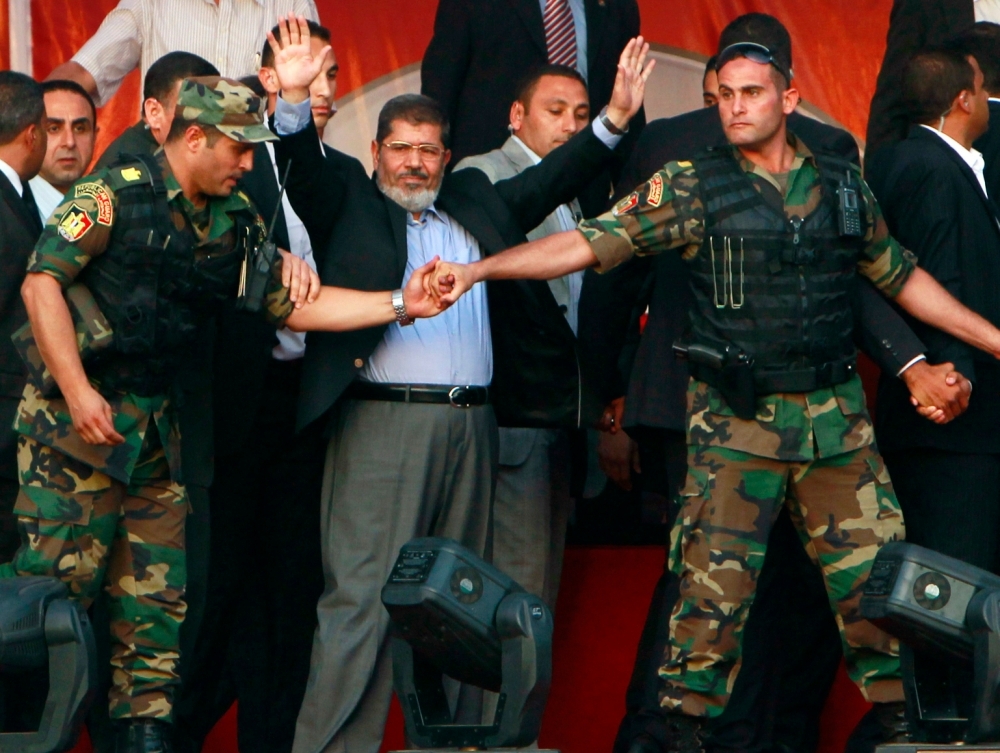 Following are key dates in the one-year rule of ousted Egyptian President Mohamed Morsy.
His destitution by the Egyptian army followed widespread protests and ended an administration based on the Muslim Brotherhood.
— 2012 —
JUNE
– 30: Morsy, elected with 51.7 percent of the vote, is sworn in, becoming Egypt's first civilian and Islamist president.
AUGUST
– 12: Morsy scraps a constitutional document that gave sweeping powers to the military and sacks Field Marshal Hussein Tantawi who ruled after Hosni Mubarak's ouster in February, 2011.
NOVEMBER
– 22: Morsy decrees sweeping new powers for himself.
– 30: Islamist-dominated constituent assembly adopts a draft constitution despite boycott by liberals, Christians.
DECEMBER
– 8: Morsy annuls decree giving himself increased powers.
– 15 and 22: 64 percent of voters in a two-round referendum back the new constitution.
Egypt plunges into political crisis, with sometimes deadly demonstrations by Morsy supporters and opponents.
— 2013 —
JANUARY
– 24: Violence between protesters and police on the eve of the second anniversary of the uprising that toppled Mubarak. Nearly 60 people die in a week.
JUNE
– 2: Egypt's highest court invalidates the Islamist-dominated Senate, which assumed a legislative role when parliament was dissolved, and a panel that drafted the constitution.
– 29: The Tamarod ("rebellion") campaign which called rallies for June 30 says more than 22 million have signed a petition demanding Morsi's resignation and a snap election.
– 30: Huge numbers of Egyptians take to the streets nationwide determined to oust Morsy on the anniversary of his turbulent first year in power.
– A military source tells AFP: "It is the biggest protest in Egypt's history."
– The health ministry says at least 16 people die in nationwide protests.
JULY
– 1: Tamarod gives Morsi a day to quit or face civil disobedience.
Egypt's army warns that it will intervene if the people's demands are not met within 48 hours.
– Morsy's office rebuffs the army's ultimatum.
– 2: Morsy holds talks with army chief General Abdel Fattah al-Sisi.
– Opposition groups choose dissident Mohamed ElBaradei to represent them in talks called for by the army.
– Clashes between the rival sides leave 23 people dead, including 16 killed by gunmen at a Cairo rally supporting Morsy.
– 3: As the army deadline passes, Morsi proposes a consensus government.
– Army chief Sisi ousts Morsy, who is placed in detention, and declares the head of the Supreme Constitutional Court caretaker leader.
– Morsy denounces the move as "a coup" and in a prerecorded speech says: "I am Egypt's elected president."
– Police round up key Morsy aides and leaders of the Muslim Brotherhood.
– Ten people are killed in clashes.
– 4: Egypt's chief justice Adly Mansour is sworn in as interim president.
– Overnight clashes bring the overall casualty toll to around 57 dead.