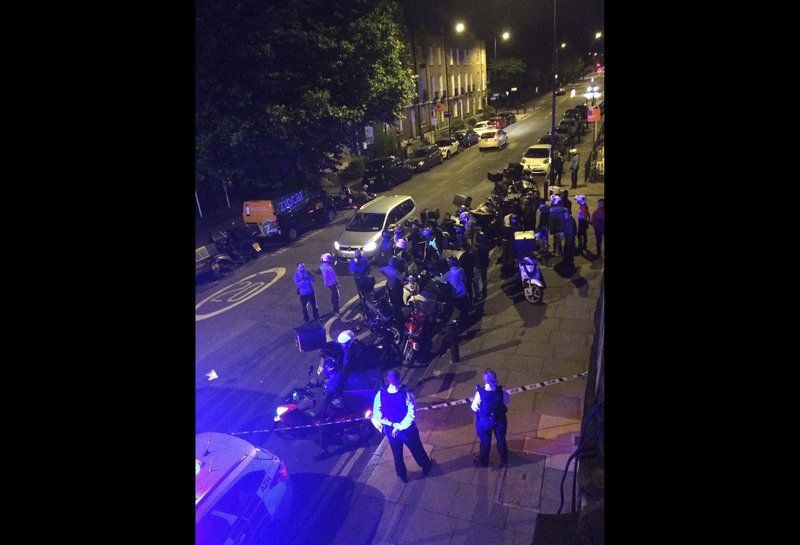 The first day of Fashion Week brought glitz, glamour and a slew of celebrities at Tom Ford's '90s-themed show, and a prestigious award for designer Thom Browne. Some of the highlights:
___
SEQUINS, CELEBS, BRIGHT COLORS AND A '90s VIBE AT TOM FORD
No one ever said Tom Ford didn't know how to make an entrance, or in this case, how to launch Fashion Week with a bang. Ford's show at the cavernous Park Avenue Armory was a celebrity event of major proportion, drawing everyone from Kim Kardashian West to Julianne Moore to Liev Schreiber to Chaka Khan to Ciara to Cindy Crawford. No wonder the opening song on the soundtrack was David Bowie's "Fame."
Guests entering the vast space, which felt like a luxurious living room bathed in rose-hued light, were offered a vodka cocktail or flute of champagne. On the sides of the room, two massive bars were being readied for the after-party.
The lights dimmed, and Ford's models emerged, first wearing casual clothes like slouchy, satiny trousers, paired with billowing jackets or blazers with exaggerated shoulders. There were leather trenches in bright orange or brilliant white. Some of the trousers hung low enough to expose the wearer's hip bones, under their clingy bodysuits. A few mini-dresses were bathed in bright sequins and short enough that they revealed way more than legs.
Then the mood went from casual to glamorous; suddenly a parade of elegant gowns appeared, sheer and ruched, with bright sequins on the arms, for just enough bling.
"I always like to use a little something that catches the light," Ford explained afterward in an interview, "because they're also red carpet dresses." He also wanted to create a contrast between day and night.
"You know the way women dress today is very different. Day clothes as we knew them don't exist anymore. Women wear jeans, a T-shirt, a great jacket … and as they go out to lunch or dinner, they pop on a pair of high heels." His gowns, he said, were a different thing entirely — which is why he paused the music, lowered the light and then brought out supermodel Gigi Hadid in an elegant ruched gown in dusty rose, with long sequined sleeves.
Ford said he was going for a '90s vibe, "for the kind of energy that my collections had at Gucci (then). And there are a lot of sort of '90s things floating around in fashion right now. There's another thing in fashion now which is 'more is more is more is more' … but I wanted to have something slicker, sleeker, more streamlined. Really, just to capture the energy of that period."
Ford is a busy man; aside from being a successful designer and now filmmaker, with the lauded 2016 "Nocturnal Animals," he's just launched a new fragrance, which has a title we can't write here — but the second word is "Fabulous."
"You know, face it, we're in 2017," he said, explaining the profane title. "It's modern parlance today." He explained that he came upon the title when he was working on the fragrance and smelled just the right combination — and uttered the future title.
"It's only available in our stores," he noted. "We haven't advertised it, so a child is not going to encounter the bottle and say, 'Mom and Dad, what's this word?"
As for his growing film career, Ford noted that there's a lot of similarity between working in film and fashion.
"Whether you're designing a brand or a film …. you have to have a vision, you have to have something to say," he said. "The basic instincts that I've had in fashion for a long time also worked in film."
Actor Liev Schreiber said he'd come to honor Ford as a friend, as well as a designer and a filmmaker.
"This is the first fashion show I've ever been to," he confessed beforehand.
As for Kardashian West, it certainly wasn't her first fashion show — but it was her first Ford show.
"I'm such a big fan of the brand," she said in an interview. "I've worn him for so long. Such a fan since (his) Gucci days and beyond. So I'm really excited to see what this collection is going to look like."
—Jocelyn Noveck
___
WHOOPI GOLDBERG HONORS THOM BROWNE
Actress and TV host Whoopi Goldberg feted designer Thom Browne at an awards luncheon kicking off Fashion Week, praising him as an innovator who knows fashion is something that makes you feel good — and celebrates individuality.
Browne "makes things for people who WANT to wear them," Goldberg said. "When you want to wear something, your head is always up." Wearing a bright orange Browne creation that resembled a floral beach robe, paired with a bright red head covering, Goldberg spoke of times in her life when she herself was made fun of for clothes she chose to wear.
"I wore stuff that worked for me," Goldberg said. "I'm not everybody's taste, I'm my own taste." She said Browne was a designer who represented "the idea that you must be an individual and stand for something."
Goldberg was presenting Browne with the Couture Council Award for Artistry in Fashion, from the Museum at the Fashion Institute of Technology. Browne — known for his whimsical and theatrical fashion shows, but also for the craftsmanship and originality of his clothes — won't be showing in New York this Fashion Week. He's moving his womenswear show to Paris, where he already shows his menswear. His move follows that of other top labels like Proenza Schouler, Rodarte and Altuzarra.
Browne is still best known for his menswear, especially his famous signature look of the "shrunken" suit: Pants that end above the ankle (or shorts), a small suit jacket, and especially no socks.
Goldberg said that when Browne debuted that look years ago, "People around the world said, 'Oh yeah, you're speaking to me, Thom.'"
Taking his turn at the microphone, Browne described how when he was starting out, he was the only one in New York dressing like he did, and schoolkids would look and say, "It's Pee-wee Herman!"
Browne teared up when he thanked his life partner, Andrew Bolton, the creator of blockbuster shows at the Costume Institute of the Metropolitan Museum of Art, where he is curator. And he committed to continuing to produce fashion that was "timeless, with a clear and individual point of view."
Among the guests at the David H. Koch Theater at Lincoln Center were Brooke Shields and Martha Stewart.