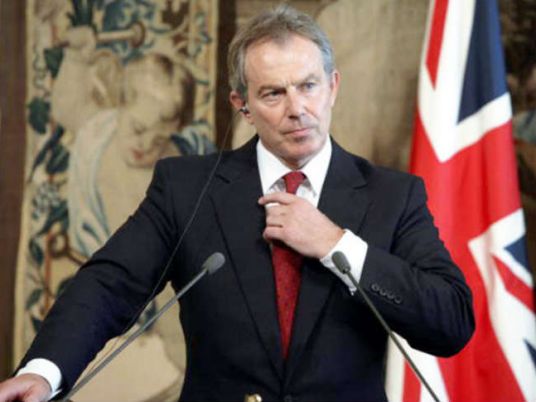 The Guardian said on Wednesday that former British Prime Minister Tony Blair agreed to provide advice to President Abdel Fattah al-Sisi on economic reform as part of a program funded by the United Arab Emirates that promises i
ts participants large 'business opportunities' in exchange for their help.
The newspaper added that Blair, the peace envoy in the Middle East, supported the coup against Egyptian President-elect Mohamed Morsy, a coup that killed more than 2,500 demonstrators and imprisoned more than 20,000 others in 2013, and that he was criticized by a close ally for that.
The paper pointed out that PricewaterhouseCoopers is handling the investment program of the UAE and that Saudi Arabia, Kuwait and the UAE are organizing a donors' conference to help the Egyptian economy.
It quoted a politician close to Blair as saying that this would tremendously affect him and the rest of the New Labour Party, adding that Blair fights an existential battle against Islam and calls for tolerance at the same time, a role similar to that played by former US President George W. Bush in Iraq.
The politician said Blair should not support a regime that imprisons journalists, for he would thereby be digging a deep hole for himself and for everyone associated with him.
Blair's spokeswoman said he is not getting paid for his advice nor is he seeking the support of the international community to achieve any personal gains, explaining that he is just helping but is not part of the team.
"We do not look for any business opportunities in Egypt," she said.
The paper quoted Blair's aides as saying last week that he is planning to open an office in Abu Dhabi in order to be close to Crown Prince Mohammed bin Zayed Al Nahyan and strengthen his links with the authoritarian regimes of the Gulf.
It also said that Blair is hiding his business dealings and that his income in 2013 alone was more than 20 million pounds Sterling.
Edited translation from Al-Masry Al-Youm