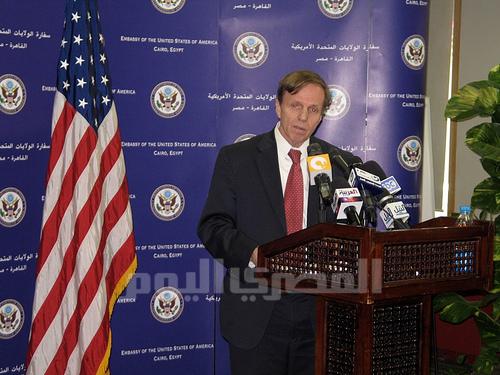 The US State Department's top human rights official on Thursday urged Egypt's military rulers to unconditionally lift the much-maligned Emergency Law.
"Many Egyptians are continuing to urge a full lifting of the Emergency Law — a view we share," said Michael Posner, the US Assistant Secretary of State for Democracy, Human Rights, and Labor, at a press conference at the US Embassy in Cairo. "We also urge reliance on civilian courts to address cases where individuals have violated the law."
Posner said lifting the Emergency Law is one of the main challenges Egypt faces in its transition to democracy.
The head of Egypt's ruling Supreme Council of the Armed Forces, Field Marshal Hussein Tantawi, said Tuesday that the military had decided to lift the state of emergency except in cases of "thuggery," without defining what the term meant.
The Emergency Law went into place after former President Anwar Sadat was assassinated by Islamist extremists in 1981. In the 30 years since, succeeding President Hosni Mubarak used the law as a means of silencing political dissent.
The SCAF extended the Emergency Law last September after riots broke out at the Israeli Embassy in response to Israel's killing of five officers on the Egypt-Israel border. Politicians have demanded the SCAF end the Emergency Law completely, expressing fears that the word "thuggery" can act as a backdoor to arrest revolutionaries.
Posner also addressed Egypt's People's Assembly, which was seated earlier this week and is currently the only elected authority in the country.
"Around the world we see that elections alone are not sufficient to building vibrant and durable democracies, and so we welcome the People's Assembly's important role in strengthening the institutions that are the foundation of accountable and democratic governance," he said.
He added: "The upcoming constitutional reform process will provide an excellent opportunity to build a legal foundation that promotes pluralism and religious freedom for all Egyptians."
Posner went on to express his hope that the process of drafting the constitution would be "transparent and inclusive," and stressed that there be a place in the new Egypt for religious minorities such as Copts, Shias, Bahais, Ahmadi Muslims and Jews.
The US also hopes that Egyptians will use this process to ensure that women have an equal opportunity to contribute fully to the economic, political and cultural development of their country, Posner said.