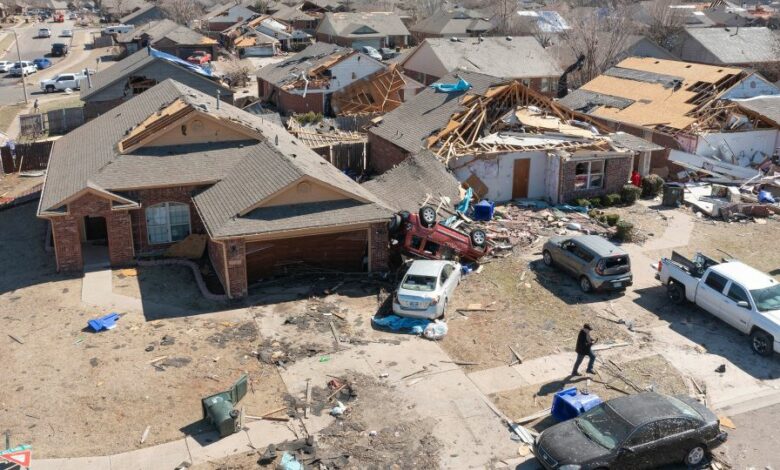 As severe storms prompted at least nine tornado reports in parts of the central US, a barrage of snow, rain and harsh wind was forecast Monday in places from the West Coast to the Great Lakes, including some still without power following a similar string of severe weather last week.
More than 216,000 US homes and businesses were without power as of Monday evening, according to PowerOutage.us. More than two-thirds of the outages were in Michigan, where a previous ice storm damaged trees and utility lines. Almost 55,000 outages were reported in California.
In Oklahoma, almost 10 tornadoes and 12 injuries were reported in Sunday's severe weather. Two tornadoes were reported in Kansas and Missouri, and one in Texas.
In all, more than 175 storms – including wind and hail – were recorded, with the bulk of them being in Kansas, Oklahoma and Texas. A gust of 114 mph was recorded In Memphis, Texas – equivalent to sustained wind in a Category 3 hurricane.
"I got up and then the wind just threw me back. And I'm screaming," Frances Tabler of Norman, Oklahoma, told CNN affiliate KOCO. "It was like a blizzard inside the house."
Early Monday, flipped cars and downed trees littered neighborhoods where roofs had been torn from homes, CNN's Ed Lavandera reported.
Preliminary survey information from the National Weather Service office in Norman has confirmed the tornado Sunday night was at least an EF-2. The survey team will continue to survey the path "where significant damage is reported to have occurred," the weather service said, and more details about the wind speed, path length and tornado width will be available when the survey is completed.
In anticipation of severe winds and potential hail Sunday night into Monday, a unit at McConnell Air Force Base in Wichita, Kansas, relocated most of its aircraft to protect them and ensure they can still be deployed if needed, the base announced.
As the storm shifted north Monday afternoon, tornado watches were issued for parts of Ohio, northeastern Kentucky, western West Virginia, eastern Indiana and far northern Kentucky.
In the West – where last week's storms prompted rare blizzard warnings and road flooding in California – a separate system of rain and high-elevation snow pushed from the Pacific Northwest down into California and into the Rockies Monday.
Ten western states were under winter weather alerts Monday as heavy snowfall was forecast across the region, including up to 10 inches in Washington state's Cascades by early Tuesday; 1 to 3 feet in high elevations and mountain peaks of western Oregon; and 1 to 3 feet in mountainous areas of the Rockies.
A blizzard warning remains in effect for the Sierra Nevada mountains in California, which could see between 2 and 6 feet of snow.
Part of Interstate 80 – from Applegate, California, to the Nevada state line – was closed Monday "due to whiteout conditions," the state transportation department said in a tweet.
The National Weather Service warned that travelers in the areas under a blizzard warning could be "stranded in vehicles for hours," as visibility could be near zero at times through early Wednesday.
Yosemite National Park was closed Saturday due to severe weather and will not reopen until at least Wednesday as the multiday blizzard warning remains in effect across Yosemite Valley, the park announced. The valley could see as much as 55 to 84 inches of snow by Wednesday, the park said.
Meanwhile, the South is anticipating another week of unusually warm winter temperatures after steaming under record-breaking highs last week.
Dozens of daily high temperature records could be broken again in the coming days as areas of southern Texas and the Florida Peninsula could see temperatures into the 90s.
Southern Plains buffeted as tornadoes reported
As the National Weather Service reviews the severe weather reports from Sunday into Monday morning, it will work to determine whether the system can be classified as a derecho, which forecasters previously said was possible.
A derecho is a widespread, long-lived windstorm, which typically causes damage in one direction across a relatively straight path, according to the weather service. To be classified as a derecho, the stretch of wind damage should extend more than 240 miles and include wind gusts of at least 58 mph along most of its length, it says.
Twelve weather-related injuries were reported early Monday, the Norman Police Department in Oklahoma said. None were critical, the department said after conferring with area hospitals.
Students on the campus of the University of Oklahoma in Norman were told to immediately take shelter Sunday evening as the area was under a tornado warning, which was later lifted.
Officials in Oklahoma are still assessing the damage, though the most concentrated impacts appear to be in Norman, Shawnee and possibly Cheyenne, said Keli Cain, public affairs director for the Oklahoma Department of Emergency Management and Homeland Security.
A United States Postal Service training facility in Norman was among the damaged buildings, according to a USPS spokesperson. No injuries were reported at the National Center for Employee Development, but some windows were blown out and power lines downed in the parking lot, the spokesperson said. No mail is processed or handled at the site.
Roughly a dozen families displaced by a tornado in Liberal, Kansas, are being accommodated and about 10 trailers were also damaged, City Manager Rusty Varnado said. At least one person was injured by broken glass, he said, noting the injuries are minor.
Hard-hit Great Lakes braces for another round
Freezing rain, snow and ice across the Great Lakes region and parts of the Midwest last week resulted in perilous travel conditions, road closures and significant power outages, disrupting daily life for many.
This week, the Great Lakes are poised to be hit all over again, including Michigan, where prior ice storms damaged trees and utility lines.
Utility company DTE, one of Michigan's largest electricity providers, said 630,000 of its customers have been impacted by the storms so far. By Sunday night, power was restored to about 600,000 of their customers, the utility said.
Up to three tenths of an inch of freezing rain was reported across isolated parts of Minnesota, Wisconsin as well as Michigan Monday, and up to 10 inches of snow was also reported, with the heaviest being in Wisconsin and Michigan.
As the storm moves east, winter storm watches are also in effect for parts of interior New York and New England through Wednesday afternoon. In total, these isolated areas can see up to 10 inches of snowfall.
New York City may see up to 6 inches of snowfall and is under a winter weather advisory. Boston may get up to 6 inches between Monday evening and Tuesday evening.
With freezing rain and wind gusts up to 40 mph expected overnight Monday in the Finger Lakes, Long Island, New York City and Western New York areas, Gov. Kathy Hochul's office warned that travel likely will be affected in the eastern part of the state Tuesday morning.
"State agencies are preparing emergency response assets and we are ready to assist local governments before, during and after the storm. I encourage everyone to keep an eye on the weather this week and stay safe," the governor said in a release.
Schools in Hartford, Connecticut, and Providence, Rhode Island, will be closed Tuesday because of the expected winter weather.
CNN's Aya Elamroussi, Haley Brink, Rebekah Reiss, Tina Burnside and Keith Allen contributed to this report.