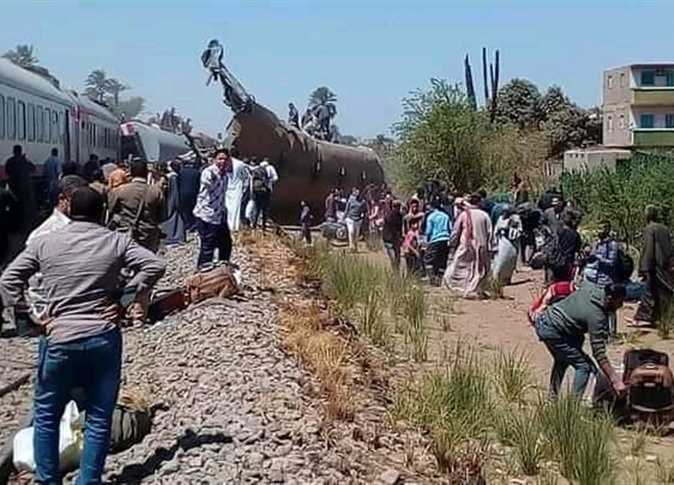 Egyptian Transport Minister Kamel al-Wazir issued an official apology on Saturday on behalf of the Egyptian National Railway (ENR) over a collision between two trains in Upper Egypt.
The Health and Population Ministry on Friday announced the death of 32 people and the injury of 66 others in the train collision near Sohag.
Wazir's apology followed President Abdel Fattah al-Sisi's meeting with Prime Minister Mostafa Madbouly, Justice Minister Omar Marwan, Higher Education and Scientific Research Minister Khaled Abdel-Ghaffar, Local Development Minister Mahmoud Shaarawi, Interior Minister Mahmoud Tawfiq, Health and Population Minister Hala Zayed, Transport Minister, and Social Solidarity Minister Nevine al-Kabbaj.
The Deputy head of the Central Region's Trains' Drivers in Upper Egypt Khaled Bahga announced the death of Kamal Mansour, the driver of air-conditioned train 2011 involved in the Sohag train collision.
"The government has allocated LE225 billion for the development of railways in Egypt, and we are trying to harmonize the operating requirements and the development of the railways," the minister said.
A train heading to Cairo from Aswan rear-ended a passenger train that had stopped at Tahta in Sohag, causing three coaches to derail and injuring a number of passengers. Dozens of equipped ambulances were dispatched to transport the injured people to Sohag General Hospital, Sohag Educational Hospital, Tahta Hospital and Maragha Hospital.
The Health and Population Ministry formed a crisis and emergency room in Sohag to follow up on the accident's repercussions, provide any needed medical supplies, and activate medical teams to treat the injured.
Meanwhile, the Egyptian government issued a brief statement announcing the urgent investigation into the accident.
Train accidents have been a common occurrence in Egypt, with some resulting in a large number of deaths and injuries.
Egyptian President has ordered an overhaul of Egypt's national rail system in which authorities will update the lines, add new lines, and increase overall safety.
The railway renovation is part of a larger ongoing transportation overhaul that includes new high-speed trains, additional metro lines, and road improvement projects.
Edited translation from Al-Masry Al-Youm