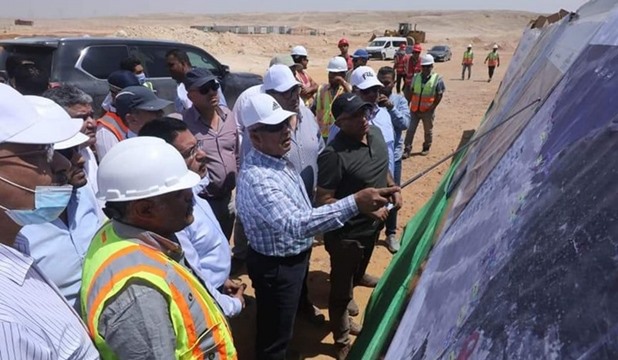 Transport Minister Kamel el Wazir checked on the workflow of the first line of the High Speed Rail network project (Ain Soukhna / El Alamein / Matrouh / Fayoum).
The minister's tour began by monitoring the implementation rates of the South Helwan Bridge on the Nile from Al-Tebeen Road (extension of the Nile Corniche) to the Cairo-Aswan Agricultural Road with a length of 2.52 km and a width of 13.66 m and an extension with a width of 28.66 m, according to a statement by the Transort Ministry.
The minister then inspected the Cairo station in Helwan, which serves the city of Helwan, the city of 15 May, and all areas south of Cairo.
The minister also checked on the progress rate of the establishment of Mohamed Naguib station, which serves the areas of Qatameya, New Cairo and the new urban areas located south of Ain Soukhna Road.
In May, Egypt signed a contract with German heavyweight Siemens to build around 2,000 kilometres of high-speed rail in the country, with a total cost estimated at LE360 ($23 billion).
In August, the Ministry of Transport – represented by the National Authority for Tunnels (NAT) – signed a preliminary agreement with a consortium of German railway company Deutsche Bahn (DB) and the Egyptian private-sector company El-Sewedi Electric on the management and operation of the new network.
The rail lines will connect 60 cities nationwide via trains that can operate at up to 230 km/hour.
The network, which will be accessible by around 90 percent of Egyptians, will include three lines and provide about 500 million journeys annually.
The second line will stretch 1,100 kilometres, linking Cairo in the north with Aswan's Abu Simbel in the south. The third line will connect Luxor in Upper Egypt with Hurghada city on the Red Sea.
The project cost will start being paid for six years after the beginning of construction work over a period of 14 years.
The project will be the sixth largest of its kind in the world, according to the German train manufacturer.