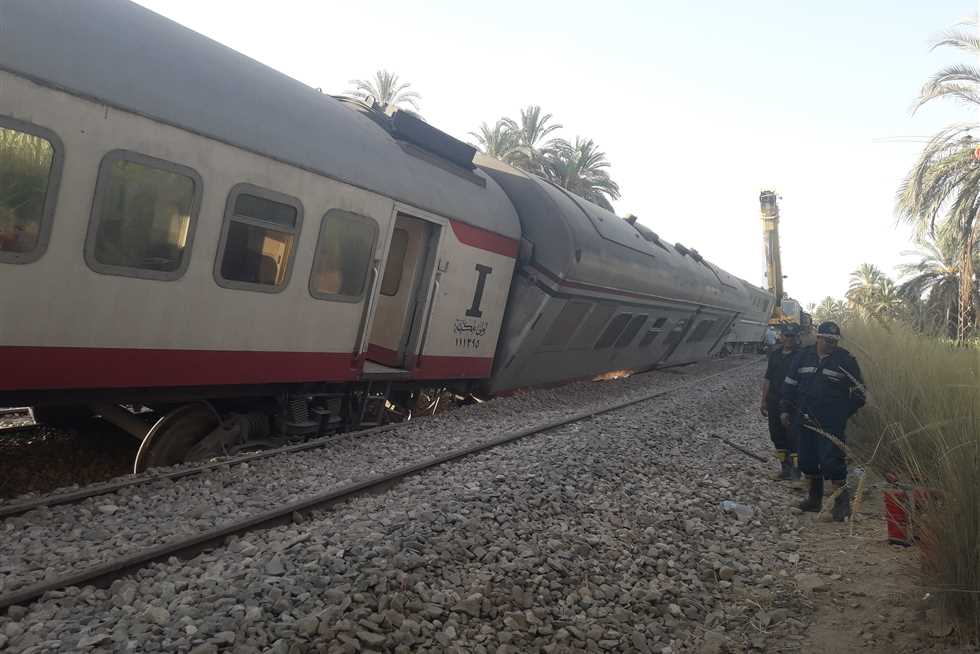 Transport Ministry Spokesperson Mohamed Ezz denied media conjecture that an unknown person deliberately caused Sunday's train accident that injured six near Aswan, by removing the railway bars' nails.
While early reports attributed this claim to Transport Minister Hisham Arafat, Ezz stressed on Tuesday that Arafat made no such statement. He maintained that the Ministry is still awaiting final reports from specialized committees on the incident, as well as the results of investigations carried out by the public prosecution.
Ezz called on the media to verify news articles prior to publishing them, especially concerning the railway lines, which serve millions of passengers daily.
Six passengers were injured when Passenger train #982 (The Spanish) derailed on Sunday before arriving in Kalabsha in Aswan, leaving both the railroad and vehicle badly damaged.
Eyewitnesses said that the train was derailed in the Shibika area between the villages of Silwa and al-Kajouj, 70 kilometers north of Aswan, as it was on its way to Kalabsha station. The accident occurred at about 3:00 am, uprooting the tracks.
Several ambulances rushed to transport the victims to Kom Ombo Central Hospital, where they were treated and discharged after recovering.
Following the accident, the Railway Authority lifted the derailed wagons and performed maintenance on the tracks. The movement of trains flowed normally on Tuesday, according to Ezz.
Meanwhile, Kom Ombo's prosecutors released the driver of the derailed train and his assistant, and ordered the formation of an engineering committee. The committee will examine the train's automatic control device, to further clarify the circumstances of the accident.
Arafat formed a technical committee, headed by the Deputy Head of the Railways Authority for Safety Affairs to follow up the incident, and appointed Raslan as Chairperson of the Railway Authority, replacing Sayed Salem. Raslan then held a meeting with his deputies and senior officials of the Railway Authority, and reviewed safety measures, emphasizing the need to coordinate a timely movement of trains.
In less than a year, the Transport Minister has dismissed two Railway Authority Heads. The first was engineer Medhat Shousha, who was sacked after a clash of trains near Alexandria killed 41 passengers and injured 143 others. Arafar replaced Medby with Salem, under whom the Marzeeq train accident injured 55 people.
However, Salem continued in his post until the Transport Minister dismissed him on Sunday.
Numerous train accidents have caused the firing of six officials in less than 10 years.
Edited translation from Al-Masry Al-Youm