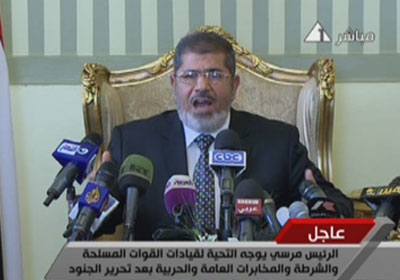 The trial of deposed Egyptian President Mohamed Morsy was adjourned on Monday, state media reported.
The Nile state television channel said the judge had adjourned the hearing until Morsy wore his prison clothes. Another state television channel and radio said the session had been adjourned after the accused disturbed the proceedings by chanting.
Morsy and 14 other Islamists face trial on charges of inciting violence outside the Ettehadiya presidential palace in December 2012.
Suspects include former deputy presidential staffer Assad al-Sheikh, Morsy's office chief Ahmed abdel Aaty, presidential security adviser Ayman Hodhod and others.
Leading Brotherhood figures including Freedom and Justice Party vice chief Essam al-Erian and Brotherhood leader Mohamed al-Beltagy are also involved in the trial.
During the trial Morsy and seven other suspects reportedly responded to questions by the court. Morsy shouted: "Illegitimate, illegal trial," claiming he was the legitimate ruler of Egypt and would not accept the validity of court proceedings.