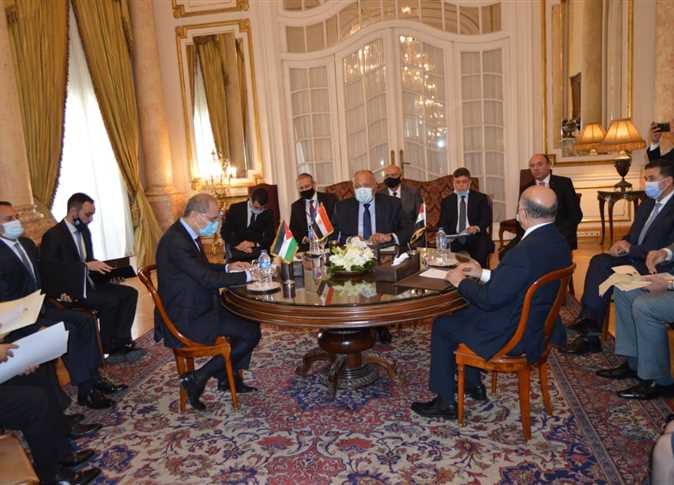 Egypt's Minister of Foreign Affairs Sameh Shokry on Tuesday stressed the importance of tripartite coordination between Egypt, Jordan, and Iraq, during a Cairo press conference with Jordanian foreign Minister Ayman Al-Safady and Iraqi foreign Minister Fouad Hussein.
The meeting aimed to achieve cooperation in energy, construction, and electricity, he said, as per the orders of the Egyptian and Iraqi presidents.
Shokry added, "We work on achieving cooperation for the benefit of the people, under the common ground of political and economic consensus and to allow us to address political issues."
The three countries exchanged shared views on the importance of preserving national security and facing all challenges, and agreed to follow up on the Palestinian cause in an effort to push the two state solution forward and establish a Palestinian state with Eastern Jerusalem as its capital.
The three parties also agreed on the the importance of continuing to support a political settlement through direct negotiation.
Egyptian President Abdel Fattah al-Sisi on Monday received Iraq's Minister of Foreign Affairs, Fouad Mohammad Hussein, and the Iraqi ambassador to Egypt, Ahmed Nayef al-Delaimy, to discuss historical ties and future relations between Egypt and Iraq.
Iraq confirmed its appreciation of Egypt's efforts to support its affairs, according to Egypt's presidential spokesperson Bassam Rady.
Rady added that Iraq's Prime Minster, Mostafa al-Kazmy, sent a message to President Sisi asking to strengthen cooperation with Egypt, either at the bilateral level or between the two countries and Jordan.