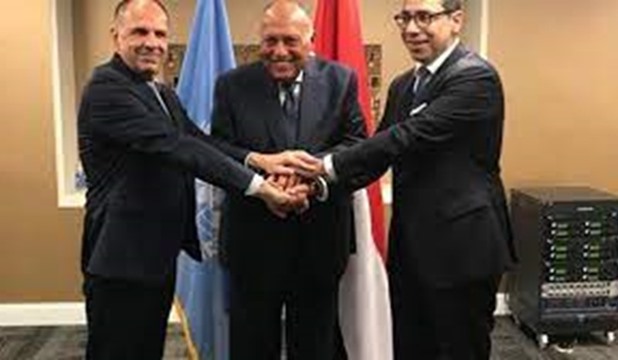 The tripartite cooperation mechanism between Egypt, Greece and Cyprus was held at the ministerial level, on the sidelines of the high-level meetings of the 78th session of the United Nations General Assembly (UNGA) in New York.
The meeting was held in the presence of Egypt's Foreign Minister Sameh Shoukry along with his Greek and Cypriot counterparts Giorgos Gerapetritis and Constantinos Kombos.
In statements Friday 22/09/2023, Foreign Ministry Spokesman Ahmed Abu Zeid said that the meeting reflected the keenness of the foreign ministers of Egypt, Greece and Cyprus on asserting the close and strategic ties binding the three countries.
The tripartite mechanism became a main platform to discuss a host of regional and international issues, said Shoukry during the meeting.
The three foreign ministers reviewed progress made so part in several joint projects in several spheres, including energy, tourism, transportation, and agriculture.
The ministers also emphasized the importance of promoting coordination, within the framework of the Eastern Mediterranean Gas Forum (EMGF).
The meeting also focused on a host of issues, including the latest developments in the Libyan crisis, the situation in Syria, the crisis in Sudan, and the latest developments in the Palestinian territories.
Shourky also referred to the latest developments in the Grand Ethiopian Renaissance Dam (GERD) negotiations.
He reiterated importance of reaching a legally binding agreement on the filling and operation of the dam.
At the end of the meeting, the ministers agreed to continue coordination and consultation within the upcoming phase along with close coordination in the various regional and international forums in issues related to the region's stability.