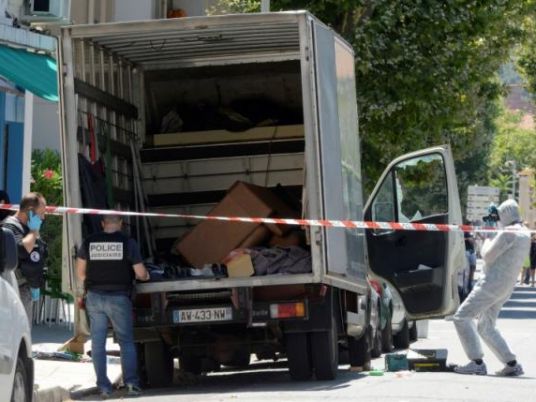 European leaders and security chiefs have a sobering message after the Bastille Day killings in Nice: such lone attacks using ordinary vehicles are nearly impossible to prevent and can be carried out by almost anyone.
"We have moved into a new era," said Prime Minister Manuel Valls. "And France will have to live with terrorism."
His Belgian counterpart, Charles Michel, said in Brussels — where Islamic State militants staged attacks in March and where they planned last November's Paris attacks — that "zero risk does not exist."
"We are now faced with a different modus operandi," he said in the Belgian capital which, like cities in France, is still on a state of high alert with troops and heavily armed police on the streets and on guard at major public events.
Belgium has anticipated such risks, Michel said, and is ready to protect its own national day festivities next Thursday.
A local, 31-year-old, Tunisian-born Frenchman with a record of violence but unknown to counter-terrorism agencies drove the rented heavy truck for 2 km (1.5 miles) along the palm-fringed Promenade des Anglais seafront, which was closed to traffic and thronged with thousands of revelers watching fireworks.
"What can you do against this?" Andre Jacob, former head of counter-terrorism at Belgium's State Security service told Reuters. "It's impossible to prevent. Even if there were clues."
That the attacker could run over and kill 84 people reflects not only the surprise, the density of the crowds and the lethal weight and speed of the vehicle, creating a far deadlier impact than many similar ramming attacks. It also speaks to a lack of barriers on the road and the limited firepower of the police on duty.
Some 25 bullet holes spattered the windshield of the truck, standing where it stopped and the driver was shot dead.
The glass had not shattered. There was no indication it was armored, so it appeared to have been hit mainly by police officers armed with standard issue pistols rather than the high-power automatic rifles carried by troops and sued by some police during emergencies.
"We're not in the United States, we're not in cowboy country," Jacob said, underlining that security forces on the scene would have had limited time to react and then had to try to hit a fast-moving target without killing innocent people.
"It's right the police have weapons for use in the city and don't wander around with Kalashnikovs (assault rifles) and grenades and so on."
Lessons from Israel
Though ramming attacks by vehicles have become more common in various parts of the world, many have been associated with attempts to blow them up — a common tactic in Iraq but also used in a makeshift, abortive way at Glasgow Airport in 2007.
Israel has seen a number in recent years, mainly where lone Arabs have driven into pedestrians or bus stops. Its security services have responded by increasing the use of heavy concrete blocks near sensitive spots, such as are common outside major government buildings in European cities. But security experts say it is impractical to protect every potential target.
The fact that much of the Israeli population is armed has also limited the threat from vehicle attackers there. Events in France, notably the stadiums and fan-zones for the Euro 2016 soccer tournament which ended on Sunday, were heavily guarded by troops and armed police but these were spread thin on July 14.
Reports of police in Nice trying to board the truck do not appear to have been effective.
"This seems like the act of an isolated individual where it's impossible to prevent anything in the sense that terrorists will adapt to their targets and you can't turn everywhere into a 'fan-zone', behind barriers and police checkpoints," Jacob said.
Two years ago, Islamic State spokesman Abu Mohamed al-Adnani released an audio recording calling on the group's supporters to kill "any infidel, French, American, or any of their allies" and recommending they use simple methods, including vehicles.
"If you are unable to plant an explosive or fire a bullet then slaughter the infidel with a knife or throw a stone or run him over with a car or throw him from on top a building or choke him or poison him," Adnani said.
Alan Mendoza, executive director of The Henry Jackson Society, a conservative think tank, said: "Nice shows an evolution of tactics from terrorists, echoing methods used against Israelis."
He said that given the difficulties of detecting such attacks in advance or stopping them once they start, societies must work to prevent the radicalization of young Europeans and attack the Islamists who urge them to act from bases abroad.
"France has been on high terror alert for months with troops on the street yet still could not prevent this atrocity," he said.