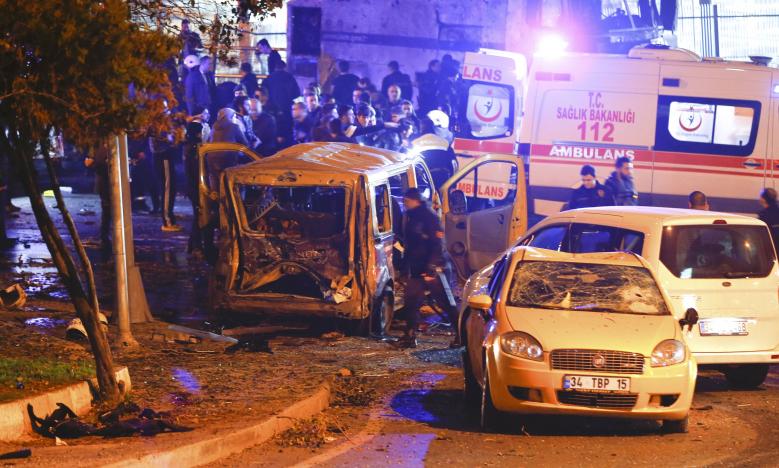 Turkish police detained nearly 200 pro-Kurdish Peoples' Democratic Party (HDP) officials on Monday over alleged links to Kurdish militants, after deadly twin weekend blasts claimed by a radical Kurdish group.
The raids saw 198 HDP officials rounded up on suspicion of belonging to the outlawed Kurdistan Workers' Party (PKK) or producing propaganda for the group, state news agency Anadolu said.
Part of an anti-terror probe, the sweeping arrest operation came after weekend attacks killed 44 people in Istanbul, mostly police, which were claimed by the Kurdistan Freedom Falcons (TAK), seen as a radical offshoot of the PKK.
According to Anadolu, 20 officials in Istanbul — including the HDP's provincial head in the city, Aysel Guzel — were taken into custody, while another 18 were detained in the Turkish capital, among them the party's Ankara chief Ibrahim Binici.
The other detentions took place in the southern provinces of Adana and Mersin, Manisa in western Turkey as well as Hakkari, Sanliurfa and Gaziantep in the country's restive southeast.
The majority of detentions were in Mersin where 93 officials were taken into custody and accused of being PKK members, Anadolu said.
Last month, 10 HDP lawmakers — including co-leaders Selahattin Demirtas and Figen Yuksekdag — were arrested, causing international alarm. They are also accused of PKK membership or of promoting the group and are being held in pre-trial detention.
The PKK, which is proscribed as a terrorist organization by Ankara, Brussels and Washington, has been waging an insurgency against the Turkish state since 1984.
Since the collapse of a ceasefire in July last year, Ankara has vowed to wipe out the PKK and has conducted several military operations against the group.
There have been frequent clashes between security forces and PKK militants and almost daily attacks on the military carried out by the group's fighters in the southeast.