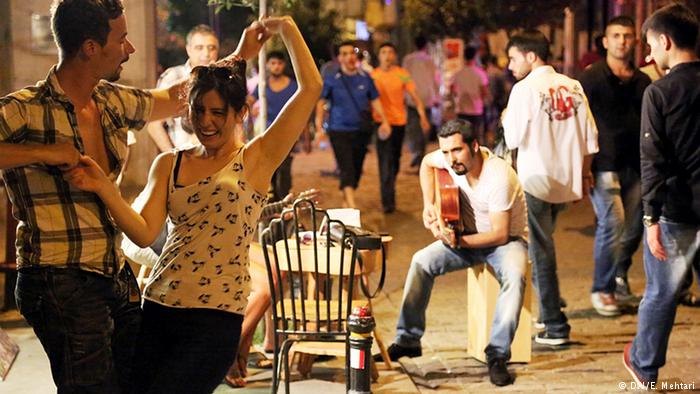 In 2010, Kurdish singer Rojda was sentenced to one year and eight months in jail: Her songs were declared "terrorist propaganda" after she had performed at a cultural festival in the Kurdish city of Diyarbakir.
Eight years later, at the end of February 2018, the singer learned that three of her Kurdish songs –  "Dilan," "Sal cu" (A Year Went By) and "Lawe Min" (My Son) –  were again banned because they were alleged to contain terrorist propaganda.
"This is happening even though all these songs are about longing for peace," Rojda said.
Trying times
National public broadcaster TRT (Turkish Radio and Television Corporation) had already drawn up the list with 208 banned songs – 66 in Kurdish, the majority in Turkish – back in 2016. But the public only learned about it after a representative of the opposition party CHP from Izmir filed an inquiry.
When Rojda saw the list, she wasn't surprised in the least.
"That's not the first time, and it won't be the last," the singer told DW.
The 40-year-old has been through a lot because she sings in Kurdish. Bans and accusations are old hat for her. And yet:
"It's very trying to be thrown back into the past and to have to go through all of this again."
Keeping Kurdish culture alive
The songs of hers that were banned by TRT are from an album she released in 2007. TRT played them on the radio and on TV for years. The singer doesn't have an explanation for why they have been banned now.
"Did they only discover this album now?" she wondered. "Artists are being portrayed as 'the others.' That's the atmosphere we're trying to survive in."
After the media published the list of the banned songs, TRT leadership rejected any and all criticism on their website.
"Media institutions are required by law to prevent the distribution of content that encourages the consumption of cigarettes and alcohol, negatively influences our children's development and works as terrorist propaganda," the statement reads.
Rojda rejects the accusation that she has been producing terrorist propaganda.
"I'm merely trying to keep the Kurdish culture alive," the singer said. "What am I supposed to do? Start singing in English?"
'Our country is wasting its time'
TRT's list includes famous pop songs as well as alternative music. One of the groups affected is rock band Eski Bando, or "Old Band." Two of its songs, "Istanbul Beirut Paris" and "Writing on the Back of the Truck," have been banned. Singer and guitarist Güney Marlen has called the decision "ridiculous."
"While the world is developing artificial intelligence, our country is wasting its time with these backward actions," the musician said.
He believes that the two songs, in which his band sings about alcohol, were banned because of the lyrics.
"At a time when the news is all about violence, guns and hatred, these are not the songs that should be censored," Marlen said.
Long history of banned music
Music censorship is not a new phenomenon in Turkey. Even before Recep Tayyip Erdogan's AKP took over, songs were censored regularly.  They have been accused of being pornographic, encouraging alcoholism, idealizing suicide and spreading political propaganda.
The song "Innkeeper, Pour a Glass" by Turkish musician Adnan Senses was alleged to drive people to the bottle. The song "Friend" by pop singer Melike Demirag was considered communist propaganda. And "May This World End" by world-music singer Orhan Gencebay supposedly reflected the artist's "derangement," authorities said when these songs were banned after the coup of 1980.
More censorship on the horizon
But things could get even worse. A new bill that was introduced in parliament by the AKP this past February stipulates that all sound and image recordings that are regularly aired online be under the control of the Turkish broadcasting authority RTÜK.
The AKP has been accused of wanting to extend control over the internet with the new bill. Critics fear the government could use it to censor online content.
"RTÜK authorities have a lot of wide-ranging power," said Yaman Akdeniz, professor at Bilgi University Law School in Istanbul. "If they use it, they could impose the same bans on the internet as well."
That would mean that all songs and videos online would be controlled by RTÜK.
"With this power over content, the democratization process in Turkey will become a distant dream," Akdeniz warned.