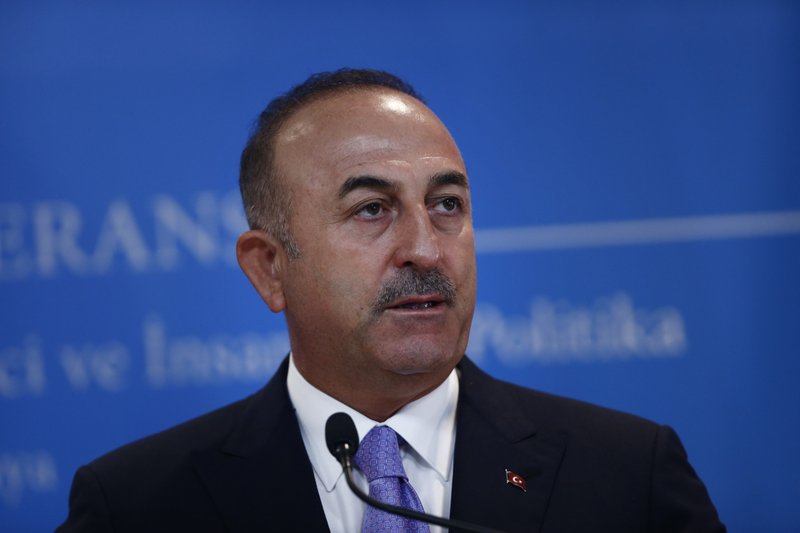 MOSCOW (AP) — Turkey's foreign minister on Friday warned against a possible Syrian government offensive on the last remaining stronghold of opposition against President Bashar Assad, while Russia indicated that it's losing its patience with the rebels.
Mevlut Cavusoglu, who was in Moscow for talks with Russian counterpart Sergey Lavrov, said that Russia and Turkey should work to separate opposition groups from "terrorists" in the northwestern province of Idlib. He warned against a government offensive there, saying that it will cause a "humanitarian catastrophe."
"Our goal is to alleviate the concerns of our Russian counterparts and get rid of the terrorists in that area," he told a briefing in Moscow. "We can work together but we could be putting civilian lives at risk while eradicating those radical groups.
Russia, which has been a key backer of Assad, launched its operation in Syria in 2015, ultimately helping to turn the tide of the war in Assad's favor.
Turkey, which supports some of the opposition groups along its border with Syria, has mediated cease-fire deals in several areas in Syria, including Idlib. Russia and Iran, who back Assad, have also mediated cease-fires of their own. In most such cases, opposition groups on the verge of surrender gave up their fight and were evacuated to remaining areas outside government control, namely Idlib.
Taking Idlib by force would be a difficult challenge for Assad's forces. As talk of a new government offensive swirled earlier this week, the leader of Syria's al-Qaida affiliate that is based in the province, vowed to fight on there. Abu Mohammed al-Golani said on Wednesday that state-sponsored surrenders of rebel groups won't happen in Idlib like they did elsewhere, because they would be considered "treason" by his al-Qaida-linked fighters.
Russia's Lavrov on Friday indicated that Moscow was losing patience with the Idlib militants, whom the Kremlin has accused of targeting government positions as well as Russia's Syria military base from there.
Lavrov said on Friday that when Turkey, Iran and Russia originally negotiated the cease-fire zones, Moscow did not expect militants to be "using it as a human shield" from which they could attack the government.
Lavrov acknowledged that the situation in Idlib is "complex" and called for the separation of militants from legitimate opposition groups. He said Cavusoglu will stay on in Moscow to join a meeting later on Friday with top Russian and Turkish defense and intelligence officials to discuss the situation in Idlib.
Separately in Moscow, Russian Defense Minister Sergei Shoigu hosted his Turkish counterpart Hulusi Akar and Turkish intelligence chief Hakan Fidan for a meeting that, according to the Russian military, discussed "ways to stabilize the situation in Syria" and military cooperation between the two countries.