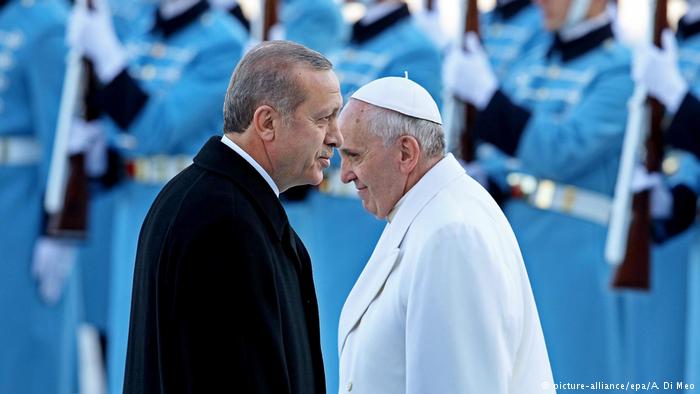 "The churches in Turkey are in a difficult position and have been for a long time," says the theologian and orientalist Harald Suermann.
"This is mostly because the churches are not legal entities and therefore find themselves in a precarious situation as far as their possessions are concerned," Suermann, who is director of the Institute of Missiology Missio in the western German city of Aachen, says. He gives building and property issues as examples. He is looking forward with great anticipation to Monday's meeting between Turkey's President Recep Tayyip Erdogan and Pope Francis.
Erdogan's visit mirrors Pope Francis's three-day tour to Turkey in November 2014 – his sixth trip abroad.
For the pope, the trip's highlight was his encounter with Ecumenical Patriarch Bartholomew in Istanbul, to whom he felt particularly close and has since met with regularly.
But it was the pope's visit to Ankara that gained more political attention around the world. Ironically, Francis –  who unlike his predecessors does not live in the regal Apostolic Palace, but instead in two modest rooms in a Vatican guesthouse – was the first guest of state Erdogan hosted in his newly built so-called White Palace, the massive presidential complex in the Turkish capital.
Call for equal rights
Against this ostentatious backdrop, Pope Francis chose plain words: "It is essential that Muslim, Jewish and Christian citizens enjoy the same rights and the same responsibilities – both in terms of legal provisions and in their actual implementation," he said before Turkish political and social leaders. In so speaking, he was unusually candid in addressing discrimination against Christians and other religions in the country. There are only about 100,000 Christians among Turkey's 80 million people, some 0.2 percent of the population.
The best-known example of their plight is the Greek Orthodox Theological on the island of Heybeliada (also known as Halki), which has been closed for decades. Without this institution, the Greek Orthodox Church is under threat of dying out in one of its heartlands. In other cases, the church has been dispossessed of properties and buildings it had long owned and used.
For Erdogan, the pope's 2014 visit was a symbol of peace between the Christian and Muslim worlds. It was to mark the beginning of a new era of cooperation, he said. At the same time, Erdogan complained about the West's Islamophobia, which equated Islam with violence, terrorism and intolerance.
Forced solidarity?
The return visit now is taking place in a completely different political climate. Much has changed in three years: The refugee crisis has intensified, with millions of Syrians now living in Turkey without the possibility of making it further on to Europe. There was the coup attempt in Turkey in July 2016. Most recently, the Turkish military launched an offensive into Syria, targeting the Kurds but impacting Christians, too.
"Political pressure on Christians has definitely intensified," and the climate has become more difficult, Suermann said. He referred to a proclamation of solidarity by Christian leaders, including Bartholomew, for the military offensive in Syria's Kurdish territory, which was "presumably forced on them." The intense campaign against the Kurds will add to Pope Francis's concern over new suffering for even more people.
Pressure on the Christian minority also drew fire this week from the "Association of Protestant Churches," which, according to its own account, brings together 150 relatively small communities in Turkey. In a statement, it spoke of recurring hate crimes against its members and institutions and increased hate speech against Christians in national and local media. The statement noted growing concern among communities and their members.
A phone call
Noteworthy is the unusual lead-up to Erdogan's Vatican trip confirmation on January 16. He and the pope had a phone call at the end of last year. According to Turkish media, it was about the status of Jerusalem following the announcement by US President Donald Trump on moving the US embassy in Israel from Tel Aviv to Jerusalem.
But what the first reports of this phone call did not reveal was that it was Erdogan who called the Vatican. This fits with the Turkish president's desire to appear as a defender of Muslim interests against the West. It was this call that set up the meeting now taking place.
"I believe a great deal can be achieved through the pope's frank discussion," Suermann says, "because it's in Turkey's interests to improve its reputation in the West to achieve its political goals. A political quid pro quo can take place." But, he added, it is not certain that this can succeed and improve the situation for Christians.