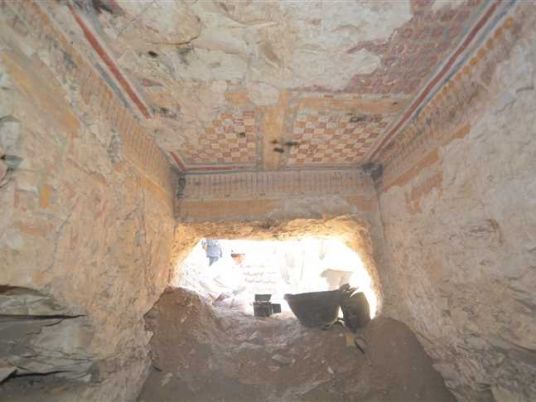 Egypt's Minister of Antiquities Khaled el-Anani announced on Saturday the discovery of two tombs in the ancient Qurna area west of Luxor.
"The discovery was carried out by an Egyptian mission of the Ministry of Antiquities under the supervision of the Secretary-General of the Supreme Council of Antiquities Mostafa Waziri," said Anani in a speech during the announcement of the archaeological discovery.
"The discovery was a joint effort of Ministry of Antiquities and Luxor Governorate to promote tourism and ancient Egyptian antiquities," he added.
"All the international and local media today came to witness this great moment," he said.
Anani pointed out that later in the day, for the first time since 1961, the Holy of Holies (innermost sanctuary) of Amun Ra will be opened in the Temple of Queen Hatshepsut in al-Deir al-Bahari.
He noted that the Executive Director of the World Bank and his deputy made an official visit to Egypt after hearing about the discovery, in order to visit the two tombs.
Edited translation from Al-Masry Al-Youm